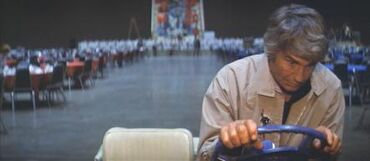 Jim Davis (1909 - 1981)
Not to be confused with Garfield creator Jim Davis
Film Deaths
Edit
The Cariboo Trail (1950) [Miller]: Gets beaten in a fight by Randolph Scott, then grabs a logging axe, twirls it to throw, so Scott shoots him. (Thanks to Brian)
The Restless Breed (1957) [Ed Newton]: Gunned down in the final showdown in the saloon by Scott Brady. (Thanks to Brian)
Rio Lobo (Sam Timoteo) (1970) [Rio Lobo Deputy]: Shot to death in a shoot-out with John Wayne. (Thanks to Michael)
The Parallax View (1974) [Senator John Hammond]: Shot in the back by a Parallax Corporation assassin while Jim is driving a cart through an assembly hall during a campaign-stop rehearsal.
TV Deaths
Edit
Cimarron Strip: The Search (1967) [Clo Vardeman]: Sneaking up behind the unsuspecting Stuart Whitman, he is about to shoot when Jonathan Lippe calls to him, which alerts Whitman who turns and shoots him. (Thanks to Brian)
Gunsmoke: The Gunrunners (1968) [Jubal Gray]: Killed in an explosion/fire when James Arness fires into the barrels of gunpowder and blows up the gunrunners hideout. (Thanks to Brian)
Gunsmoke: Zavala (1968) [Ben Rawlins]: Wounded in a gunfight by James Arness in the village square but then shot dead by Rico Alaniz (Thanks to Brian)
Gunsmoke: Murdoch (1971) [Amos Carver]: Shot twice in the chest by James Arness after he has wounded Jack Elam and Robert Random. (Thanks to Brian)
Night Gallery: The Waiting Room (1972) [Abe Bennett]: Shot in the head (off-screen) by a deputy while hiding in the bell tower; he appears as a ghost in the afterlife "saloon", and we hear the bell tolling after he leaves the saloon to relive his death.
Dallas: The Search (1982) [Jock Ewing]: Killed (off-screen) in a helicopter crash; his death is confirmed when his sons find his medallion in a lake. (Jim doesn't appear in this episode, due to his real-life death the previous year.)
Community content is available under
CC-BY-SA
unless otherwise noted.