Tags: apiedit, Visual edit

Line 6:
Line 6:
 
 
 

==Film Deaths:==

 

==Film Deaths:==

−

*'''''Laputa Castle In The Sky ''(1986; anime)''''' ''[''General Muoro'']: Falls to his death (along with several of his soldiers) when Muska ([[Mark Hamill]]) activates a trap door in the flying castle's defense system.

+

*'''''Laputa Castle In The Sky ''(1986; anime)''''' ''[''General Muoro'']: Falls to his death (along with several of his soldiers) when Muska ([[Mark Hamill]]) activates a trap door in the flying castle's defense system.

 

*'''''Scooby-Doo on Zombie Island ''(1998; animated)''''' ''[''Jacques'']: Disintegrates, along with Simone (voiced by [[Adrienne Barbeau]]) and Lena (voiced by [[Tara Strong]]), when they fail to sacrifice the Scooby-Doo gang to sustain their immortality.

 

*'''''Scooby-Doo on Zombie Island ''(1998; animated)''''' ''[''Jacques'']: Disintegrates, along with Simone (voiced by [[Adrienne Barbeau]]) and Lena (voiced by [[Tara Strong]]), when they fail to sacrifice the Scooby-Doo gang to sustain their immortality.

−

*'''''The Princess and the Frog ''(2009; animated)''''' ''[''Ray'']: Playing the voice of a firefly, he is slapped to the ground and stepped on by Dr. Facilier ([[Keith David]]), he later dies in Louis' ([[Michael Leon Wooley]]) arms, he then becomes a star.

+

*'''''The Princess and the Frog ''(2009; animated)''''' ''[''Ray'']: Playing the voice of a firefly, he is slapped to the ground and stepped on by Dr. Facilier ([[Keith David]]), he later dies in ([[Michael Leon Wooley]]) arms, he then becomes a star.

 
 
 

==TV Deaths:==

 

==TV Deaths:==

−

*'''''Mighty Max:The Magnificent Seven ''(1993; animated)''''' ''[''Beowulf'']: Killed (offscreen) by the Skullmaster ([[Tim Curry]]) and his minions protecting Max ([[Rob Paulsen]]).

+

*'''''Mighty Max:The Magnificent Seven ''(1993; animated)''''' ''[''Beowulf'']: Killed (offscreen) by the Skullmaster ([[Tim Curry]]) and his minions protecting Max ([[Rob Paulsen]]).

−

*'''''Gargoyles: City Of Stones Part II ''(1995; animated)''''' ''[''Gillecomgain'']: Falls to his death from a castle after a struggle with Demona ([[Marina Sirtis]]).

+

*'''''Gargoyles: City Of Stones Part II ''(1995; animated)''''' ''[''Gillecomgain'']: Falls to his death from a castle after a struggle with Demona ([[Marina Sirtis]]).

−

*''''''Duckman:Westward No! (1997;animated)''''' [Big Jack McBastard]: Trampled to death by a horse after Duckman ([[Jason Alexander]]) spooks it, his body is then stripped to the bone by buzzards then crumbles to dust, he later comes back from the dead with no explanation.

+

*''''''Duckman:Westward No! (1997;animated)''''' [Big Jack McBastard]: Trampled to death by a horse after Duckman ([[Jason Alexander]]) spooks it, his body is then stripped to the bone by buzzards then crumbles to dust, he later comes back from the dead with no explanation.

−

*'''''King Of The Hill: Movin' On Up'' (2000; animated)''' [''"Pops" Popacito'']: Dies of a heart attack while riding his lawn mower. (Played for semi-comic effect).

+

*'''''King Of The Hill: Movin' On Up'' (2000; animated)''' [''"Pops" Popacito'']: Dies of a heart attack while riding his lawn mower. (Played for semi-comic effect).

−

*'''''Thundercats:Native Son ''(2012; animated)''''' ''[''Caspin'']: Stabbed in the chest by Javan ([[Robert Atkins Downes]]) after he tries to kill Tygra ([[Matthew Mercer]]).

+

*'''''Thundercats:Native Son ''(2012; animated)''''' ''[''Caspin'']: Stabbed in the chest by Javan ([[Robert Atkins Downes]]) after he tries to kill Tygra ([[Matthew Mercer]]).

 
 
 

==Video Game Deaths:==

 

==Video Game Deaths:==
---
Revision as of 01:17, 29 April 2017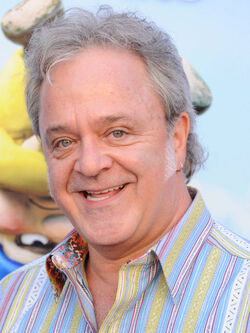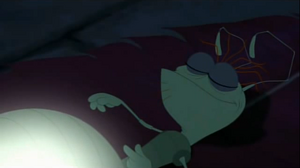 Jim Cummings (1952 - )
Voice Actor
Film Deaths:
Laputa Castle In The Sky (1986; anime) [General Muoro]: Falls to his death (along with several of his soldiers) when Muska (voiced by Mark Hamill) activates a trap door in the flying castle's defense system.
Scooby-Doo on Zombie Island (1998; animated) [Jacques]: Disintegrates, along with Simone (voiced by Adrienne Barbeau) and Lena (voiced by Tara Strong), when they fail to sacrifice the Scooby-Doo gang to sustain their immortality.
The Princess and the Frog (2009; animated) [Ray]: Playing the voice of a firefly, he is slapped to the ground and stepped on by Dr. Facilier (voiced by Keith David), he later dies in Louis' (voiced by Michael Leon Wooley) arms, he then becomes a star.
TV Deaths:
Video Game Deaths:
Alpha Protocol (2010) [Conrad Marburg]: Shot during a confrontation with Josh Gilman at Rome. (He survives in the other endings)
Community content is available under
CC-BY-SA
unless otherwise noted.