Tags: apiedit, Visual edit

Line 6:
Line 6:
 
 
 

==Film Deaths:==

 

==Film Deaths:==

−

*'''''Laputa Castle In The Sky ''(1986; anime)''''' ''[''General Muoro'']: Falls to his death (along with several of his soldiers) when Muska ([[Mark Hamill]]) activates a trap door in the flying castle's defense system.

+

*'''''Laputa Castle In The Sky ''(1986; anime)''''' ''[''General Muoro'']: Falls to his death (along with several of his soldiers) when Muska ([[Mark Hamill]]) activates a trap door in the flying castle's defense system.

 

*'''''Scooby-Doo on Zombie Island ''(1998; animated)''''' ''[''Jacques'']: Disintegrates, along with Simone (voiced by [[Adrienne Barbeau]]) and Lena (voiced by [[Tara Strong]]), when they fail to sacrifice the Scooby-Doo gang to sustain their immortality.

 

*'''''Scooby-Doo on Zombie Island ''(1998; animated)''''' ''[''Jacques'']: Disintegrates, along with Simone (voiced by [[Adrienne Barbeau]]) and Lena (voiced by [[Tara Strong]]), when they fail to sacrifice the Scooby-Doo gang to sustain their immortality.

−

*'''''The Princess and the Frog ''(2009; animated)''''' ''[''Ray'']: Playing the voice of a firefly, he is slapped to the ground and stepped on by Dr. Facilier ([[Keith David]]), he later dies in Louis' ([[Michael Leon Wooley]]) arms, he then becomes a star.

+

*'''''The Princess and the Frog ''(2009; animated)''''' ''[''Ray'']: Playing the voice of a firefly, he is slapped to the ground and stepped on by Dr. Facilier ([[Keith David]]), he later dies in ([[Michael Leon Wooley]]) arms, he then becomes a star.

 
 
 

==TV Deaths:==

 

==TV Deaths:==

−

*'''''Mighty Max:The Magnificent Seven ''(1993; animated)''''' ''[''Beowulf'']: Killed (offscreen) by the Skullmaster ([[Tim Curry]]) and his minions protecting Max ([[Rob Paulsen]]).

+

*'''''Mighty Max:The Magnificent Seven ''(1993; animated)''''' ''[''Beowulf'']: Killed (offscreen) by the Skullmaster ([[Tim Curry]]) and his minions protecting Max ([[Rob Paulsen]]).

−

*'''''Gargoyles: City Of Stones Part II ''(1995; animated)''''' ''[''Gillecomgain'']: Falls to his death from a castle after a struggle with Demona ([[Marina Sirtis]]).

+

*'''''Gargoyles: City Of Stones Part II ''(1995; animated)''''' ''[''Gillecomgain'']: Falls to his death from a castle after a struggle with Demona ([[Marina Sirtis]]).

−

*''''''Duckman:Westward No! (1997;animated)''''' [Big Jack McBastard]: Trampled to death by a horse after Duckman ([[Jason Alexander]]) spooks it, his body is then stripped to the bone by buzzards then crumbles to dust, he later comes back from the dead with no explanation.

+

*''''''Duckman:Westward No! (1997;animated)''''' [Big Jack McBastard]: Trampled to death by a horse after Duckman ([[Jason Alexander]]) spooks it, his body is then stripped to the bone by buzzards then crumbles to dust, he later comes back from the dead with no explanation.

−

*'''''King Of The Hill: Movin' On Up'' (2000; animated)''' [''"Pops" Popacito'']: Dies of a heart attack while riding his lawn mower. (Played for semi-comic effect).

+

*'''''King Of The Hill: Movin' On Up'' (2000; animated)''' [''"Pops" Popacito'']: Dies of a heart attack while riding his lawn mower. (Played for semi-comic effect).

−

*'''''Thundercats:Native Son ''(2012; animated)''''' ''[''Caspin'']: Stabbed in the chest by Javan ([[Robert Atkins Downes]]) after he tries to kill Tygra ([[Matthew Mercer]]).

+

*'''''Thundercats:Native Son ''(2012; animated)''''' ''[''Caspin'']: Stabbed in the chest by Javan ([[Robert Atkins Downes]]) after he tries to kill Tygra ([[Matthew Mercer]]).

 
 
 

==Video Game Deaths:==

 

==Video Game Deaths:==
---
Revision as of 01:17, 29 April 2017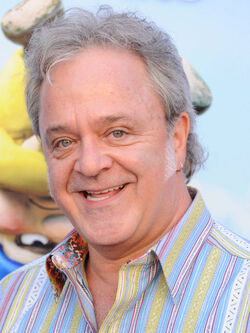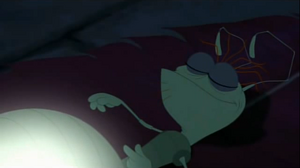 Jim Cummings (1952 - )
Voice Actor
Film Deaths:
Laputa Castle In The Sky (1986; anime) [General Muoro]: Falls to his death (along with several of his soldiers) when Muska (voiced by Mark Hamill) activates a trap door in the flying castle's defense system.
Scooby-Doo on Zombie Island (1998; animated) [Jacques]: Disintegrates, along with Simone (voiced by Adrienne Barbeau) and Lena (voiced by Tara Strong), when they fail to sacrifice the Scooby-Doo gang to sustain their immortality.
The Princess and the Frog (2009; animated) [Ray]: Playing the voice of a firefly, he is slapped to the ground and stepped on by Dr. Facilier (voiced by Keith David), he later dies in Louis' (voiced by Michael Leon Wooley) arms, he then becomes a star.
TV Deaths:
Mighty Max:The Magnificent Seven (1993; animated) [Beowulf]: Killed (offscreen) by the Skullmaster (voice of Tim Curry) and his minions protecting Max (voice of Rob Paulsen).
Gargoyles: City Of Stones Part II (1995; animated) [Gillecomgain]: Falls to his death from a castle after a struggle with Demona (voice of Marina Sirtis).
'Duckman:Westward No! (1997;animated) [Big Jack McBastard]: Trampled to death by a horse after Duckman (voice of Jason Alexander) spooks it, his body is then stripped to the bone by buzzards then crumbles to dust, he later comes back from the dead with no explanation.
King Of The Hill: Movin' On Up (2000; animated) ["Pops" Popacito]: Dies of a heart attack while riding his lawn mower. (Played for semi-comic effect).
Thundercats:Native Son (2012; animated) [Caspin]: Stabbed in the chest by Javan (voice of Robert Atkins Downes) after he tries to kill Tygra (voice of Matthew Mercer).
Video Game Deaths:
Alpha Protocol (2010) [Conrad Marburg]: Shot during a confrontation with Josh Gilman at Rome. (He survives in the other endings)