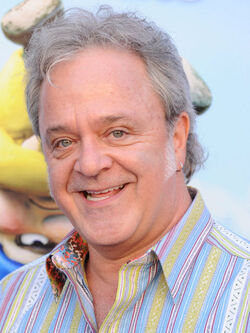 Jim Cummings (1952 - )
Voice Actor
Film Deaths
Edit
Laputa Castle In The Sky (1986; anime) [General Muoro]: Falls to his death (along with several of his soldiers) when Muska (voiced by Mark Hamill) activates a trap door in the flying castle's defense system.
The Lion King (1994; animated) [Ed]: Presumably incinerated in a fire caused by lightning while eating Scar (Jeremy Irons). Debatable, as the sequel confirms some hyenas to still be alive, but given the number of hyenas seen during the song, it is likely not all hyenas partook in this mutiny, and that those that did perished while those that did not survived and escaped.
Balto (1995; animated) [Steele]: Voicing an animated Dog, died sometime around the past. (Originally, Steel was gone to died getting his collar staged on a lever and get buried alive by coal, but was cut for being too dark.)
Scooby-Doo on Zombie Island (1998; animated) [Jacques]: Disintegrates, along with Simone (voiced by Adrienne Barbeau) and Lena (voiced by Tara Strong), when they fail to sacrifice the Scooby-Doo gang to sustain their immortality.
The Land Before Time VII: The Stone of Cold Fire (2000; animated) [Sierra]: Presumably killed in explosion of the Stone of Cold Fire caused by a volcanic eruption, along with Rinkus (Rob Paulsen). Explosion sends them flying into a cave, where they lay still, badly burned. Their deaths are unconfirmed but likely.
Dead Space: Downfall (Video, 2008; animated) [Captain Benjamin Mathius]: Accidentally impaled in the eye by Dr.Terrence Kyne (voiced by Keith Szarabajka) with a needle.
The Princess and the Frog (2009; animated) [Ray]: Playing the voice of a firefly, he is slapped to the ground and stepped on by Dr. Facilier (voiced by Keith David), he later dies in Louis' (voiced by Michael Leon Wooley) arms, he then becomes a star.
Sing (2016; animated) [Russian Bears]: Voicing the bears, it is unknown that he died or not. The leader was last seen chasing Mike (Seth MacFarlane) and Nancy (Tara Strong).
Christopher Robin (2018) [Winnie the Pooh]: Providing the voice of a bear (and Tigger), he drowns while fading after talking to a dying Ewan McGregor. (He survives in reality.)
TV Deaths
Edit
Video Game Deaths
Edit
Alpha Protocol (2010) [Conrad Marburg/Gelato Man]: Shot during a confrontation with Josh Gilman at Rome if the player has Josh in an antagonistic relationship with Marburg. The Gelato Man can also be killed via gunshot to the chest by Josh depending on player choice.
The Elder Scrolls V: Skyrim (2011) [Festus Krex/Froki Whetted-Blade/Logrolf The Willful/Various]: Festus Krex depending on the players actions can be killed by the player if they refuse to join the Dark Brotherhood, if the player joins the Dark Brotherhood will be found shot to death with arrows by Penitus Oculatus soldiers at the end of the storyline, Froki Whetted-Blade can be killed by enemies during the Sovngarde quest, and Logrolf The Willful is killed by the player while trying to get information out of him, he is resurrected by Molag Bal moments later.
Mass Effect 3 (2013; video game) [Urdnot Wreav]: If the player had Steve Barr survive the events of the first game, Jim dies when the thresher maw Kalros devours Jim's APC.
Minecraft: Story Mode: A Journey's End? (2016) [Hadrian]: Possibly dies with Kari Wahlgren in the dimension of chicken sized zombies or zombie sized chickens due to possible starvation.
Community content is available under
CC-BY-SA
unless otherwise noted.