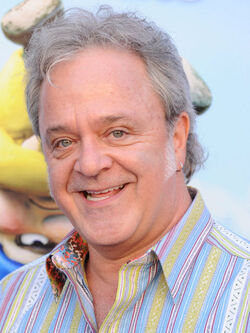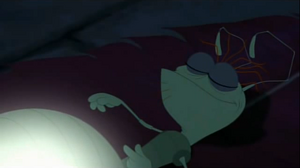 Jim Cummings (1952 - )
Voice Actor
Film Deaths
Edit
TV Deaths
Edit
Mighty Max:The Magnificent Seven (1993; animated) [Beowulf]: Killed (offscreen) by the Skullmaster (voice of Tim Curry) and his minions protecting Max (voice of Rob Paulsen).
Aladdin: Strike Up The Sand (1994; animated) [Sand Monster]: Body explodes into grains of sand after Sadira (voiced by Kellie Martin) smashed the amulet with a stone.
Gargoyles: City Of Stone Part II (1995; animated) [Gillecomgain]: Falls to his death from a castle after a struggle with Demona (voice of Marina Sirtis).
'Duckman:Westward No! (1997;animated) [Big Jack McBastard]: Trampled to death by a horse after Duckman (voice of Jason Alexander) spooks it, his body is then stripped to the bone by buzzards then crumbles to dust, he later comes back from the dead with no explanation.
Courage The Cowardly Dog: King Ramses' Curse (1999;animated) [Cat Thief #1]: Eaten by a swarm of locusts summoned by King Ramses (John Dilworth) along with Cat Thief #2 (Paul Schoeffler) when they refuse to hand over his slab.
King Of The Hill: Movin' On Up (2000; animated) ["Pops" Popacito]: Dies of a heart attack while riding his lawn mower. (Played for semi-comic effect).
Thundercats:Native Son (2012; animated) [Caspin]: Stabbed in the chest by Javan (voice of Robert Atkins Downes) after he tries to kill Tygra (voice of Matthew Mercer).
Video Game Deaths
Edit
Alpha Protocol (2010) [Conrad Marburg/Gelato Man]: Shot during a confrontation with Josh Gilman at Rome if the player has Josh in an antagonistic relationship with Marburg. The Gelato Man can also be killed via gunshot to the chest by Josh depending on player choice.
The Elder Scrolls V: Skyrim (2011) [Festus Krex/Froki Whetted-Blade/Logrolf The Willful/Various]: Festus Krex depending on the players actions can be killed by the player if they refuse to join the Dark Brotherhood, if the player joins the Dark Brotherhood will be found shot to death with arrows by Penitus Oculatus soldiers at the end of the storyline, Froki Whetted-Blade can be killed by enemies during the Sovngarde quest, and Logrolf The Willful is killed by the player while trying to get information out of him, he is resurrected by Molag Bal moments later.
Mass Effect 3 (2013; video game) [Urdnot Wreav]: If the player had Steve Barr survive the events of the first game, Jim dies when the thresher maw Kalros devours Jim's APC.
Minecraft: Story Mode: A Journey's End? (2016) [Hadrian]: Possibly dies with Kari Wahlgren in the dimension of chicken sized zombies or zombie sized chickens due to possible starvation.
Community content is available under
CC-BY-SA
unless otherwise noted.