Wiki Targeted (Entertainment)
Play Sound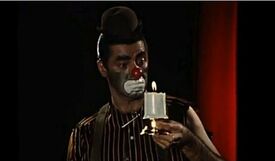 Jerry Lewis (1926 - 2017)
Deaths in Film
[
]
Pardners (1956) [Wade Kingsley Jr./Wade Kingsley Sr.]: Playing a dual role as father and son, "Wade Sr." is shot to death, along with Dean Martin, by John Baragrey. ("Wade Jr." survives the movie.)
The Day the Clown Cried (1972) [Helmut Doork]: Poisoned after willingly entering a gas chamber in order to entertain Jewish children that he was forced to lead into said chamber. (The film remains unreleased, but several reports of the script confirm his fate.)
Arizona Dream (1993) [Leo Sweetie]: Dies of a heart attack.
Deaths in Television
[
]
The Simpsons: Treehouse of Horror XIV (2003; animated) [Professor John Frink Sr.]: In the second segment of the show, Lewis is torn apart by a shark (off screen) while trying to test out a blood based sun tan lotion years before the story begins; his corpse is brought back to life by his son Professor Frink (voiced by Hank Azaria). Lewis is killed again at the end of the episode when Frink kicks him at a pressure point in his groin; he dies after saying his last words to his son, but Frink manages to keep Lewis' soul in a box. (Played for comic effect.)