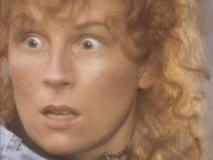 Jennifer Saunders (1958 - )
Deaths in Film
Edit
Shrek 2 (2004); animated) [Fairy Godmother]: Disintegrated into a cloud of bubbles when her spell ricochets off of the King's (voiced by John Cleese) armor. (Thanks to Marc)
Coraline (2009; animated) [Miss Spink/Other Miss Spink]: Playing a dual role in the two realms, "Other Miss Spink" is killed (along with Dawn French) when a swarm of bat-winged dogs lured over by Dakota Fanning collides with them at high speed ("Miss Spink" survives the movie.) (Thanks to Tommy)
Deaths in Television
Edit
The Young Ones: Time (1984) [Helen Mucus]: Crushed to death when a medieval knight suddenly bursts in, causing the door to fall on her. (Played for comic effect.)
French & Saunders: The Exorcist (1990) [Assorted characters]: Commits suicide by jumping out of the window during an exorcism, in a parody of Jason Miller's death in The Exorcist. We only see her going out the window; neither the fall nor the body is shown.
French & Saunders: Thelma & Louise (1993) [Louise]: Commits suicide by driving her car over the edge of a cliff, in a parody of Susan Sarandon's death in Thelma & Louise. Unlike the original, Jennifer discovers that Dawn French (parodying Geena Davis' role) has jumped to safety at the last second. The scene ends with a freeze-frame of the car falling through the air, while Dawn waves goodbye from the top of the cliff.
French & Saunders: The Phantom Millenium (1999) [Porq-Dim Summ]: Stabbed in the stomach with a lightsaber by a "Darth Maul" look-alike, in a parody of Liam Neeson's death in Star Wars: Episode I: The Phantom Menace. She dies in Dawn French's arms shortly afterwards. (Jennifer is made up to look like Liam Neeson, complete with false beard.)
French & Saunders: French & Saunders Actually (2003) [Jennifer Saunders]: Dismembered with a chainsaw (along with Dawn French) by Felicity Kendal, after Dawn and Jennifer do a parody of Felicity's TV series Rosemary & Thyme. Various body parts are shown flying through the air. (Played for comic effect.)
The Stranger: Episode 2 (2020) [Heidi Doyle]: Shot in the head (off-screen) by Paul Kaye. Her body is shown in a later episode when Siobhan Finneran discovers her.
Notable Connections
Edit
Mrs. Adrian Edmondson
Community content is available under
CC-BY-SA
unless otherwise noted.