watch 01:12
The Loop (TV)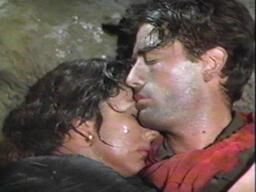 Jennifer Jones (1919 - 2009)

Not to be confused with former talk show host Jenny Jones
Duel in the Sun (1946) [Pearl Chavez]: Shot in the chest by Gregory Peck after she shoots him first. Although mortally wounded, she manages to crawl along the hills and make her way to him; they die in each other's arms.
Portrait of Jennie (Jennie; Tidal Wave) (1948) [Jennie Appleton]: She plays a ghost, but I don't know whether she has an on-screen death scene or not. (Thanks to Mac)
Madame Bovary (1949) [Emma Bovary]: Commits suicide by drinking arsenic. (Thanks to Farzad)
Gone to Earth (1950) [Hazel Woodus]: Falls down a mineshaft while trying to carry a fox to safety during a foxhunt. (Note: This movie was reissued in 1952 as The Wild Heart (a.k.a. Gypsy Blood), with much of the original footage cut out and replaced with new scenes. I would assume that her death scene, being a major plot element, is the same in both versions, but I don't know for certain.) (Thanks to Costas)
A Farewell to Arms (1957) [Nurse Catherine Barkley]: Dies shortly after childbirth, with Rock Hudson at her bedside. (Thanks to Farzad)
Angel, Angel, Down We Go (Cult of the Damned) (1969) [Astrid Steele]: Falls to her death in a skydiving accident. (Thanks to Costas)
The Towering Inferno (1974) [Lisolette Mueller]: Falls to her death from a glass elevator after a fire explosion hits it (she's the only one who falls).
Community content is available under
CC-BY-SA
unless otherwise noted.