Wiki Targeted (Entertainment)
Play Sound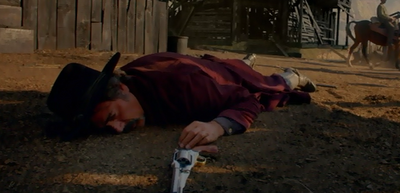 Jeffrey Dean Morgan (1966 - )
Watchmen (2009) [Edward Blake a.k.a. The Comedian]: Falls to his death after being thrown through a penthouse window at the end of a fight with Matthew Goode. (Thanks to Agustin and Tommy)
Jonah Hex (2010) [Jeb Turnbull]: Killed by Josh Brolin, some time before the story begins. His body is later seen when Josh digs him up then briefly comes back to life when Josh uses his supernatural powers while touching him.
The Resident (2011) [Max]: Shot in the head with a nail gun by Hilary Swank (to finish him off) after she shoots him in various parts of the body, causing him to fall through the floorboards (although he seems to be still alive as the film ends, his wounds are clearly fatal).
Solace (2015) [Agent Joe Merriweather]: Fatally wounded when he is shot in the side by Joshua Close, his symptoms exacerbated by his late-stage cancer; he dies (off-screen) after speaking to Anthony Hopkins in the hospital.
In the Blink of an Eye (1996) [Jessie Tafero]: Executed by the electric chair (off-screen).
Star Trek: Enterprise: Carpenter Street (2003) [Damron]: Shot with a phase pistol by Scott Bakula when he attempts to release a bioweapon. His body was later seen again after being transported to the future. His body is seen yet again in the ship's morgue (then played by body double Henry Farnam) in the later episode The Forgotten. (Jeffrey was wearing heavy alien prosthetics for the role).
Weeds: You Can't Miss the Bear (2005) [Judah Botwin]: Dies (off-screen) of a heart attack while jogging with his son (Alexander Gould), some time before the series starts. (Jeffrey does not appear in the opening episode, but the character's death is established; he has only appeared in the video tape/flashback footage in the episodes Free Goat and Dead in the Nethers.) (Thanks to TS)
Community content is available under
CC-BY-SA
unless otherwise noted.