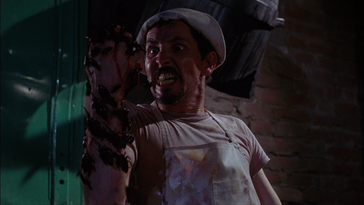 Jeff Winkless (1941 - 2006)
The Professional: Golgo 13 (Golgo 13) (1983) [Informant]: Throat slit by Greg Snegoff while Jeff is working in his office; he dies after talking to his contact (also voiced by Greg). (See also Koichi Chiba in the Japanese version.)
Vampire Hunter D (Kyûketsuki hantâ D) (1985) [Count Magnus Lee]: After being pinned to a wall by Michael McConnohie with a sword, he is crushed to death when the wall collapses. (See also Seizo Kato in the Japanese version.)
Laputa: Castle In The Sky (Tenkû no shiro Rapyuta) (1986) [Muska]: Falls to his death after Barbara Goodson and Lara Cody recite a spell that causes the structure Jeff is standing on to collapse and plunge into the ocean. (See also Minori Terada in the Japanese version and Mark Hamill in the second English version.)
Wicked City (Yôjû toshi) (1987) [Mr. Shadow]: Slashed in half by Gaye Kruger, in addition to being electrocuted and impaled on a metal cross by Mike Reynolds, at the end of a fight. (See also Takeshi Aono in the Japanese version and Ronald Baker in the second English version.)
Neo Tokyo (Meikyû monogatari) (1987) [Robot 444-1]: Providing the voice of a robot, he is destroyed after being hit repeatedly with a pipe by Robert Axelrod. (See also Hiroshi Otake in the Japanese version.)
The Nest (1988) [Church]: Eaten by mutant cockroaches in a dumpster.
Crying Freeman 2: Shades of Death, Part 1 (Crying Freeman 2: Fûsei kakurei) (1989) [Koh Tokugen]: Shot in the eye by Diane Michelle while Jeff is attempting to warn Steve Bulen of Diane's arrival; he dies after talking to Steve. (See also Ryusei Nakao in the Japanese version and Byron Mann in the live-action remake.)
8 Man After (Cyber Desesperado) (1993) [Tony Gleck]: Providing the voice of a cyborg, he is destroyed in an explosion while fighting Steve Bulen. (See also Issei Futamata in the Japanese version.)
Community content is available under
CC-BY-SA
unless otherwise noted.