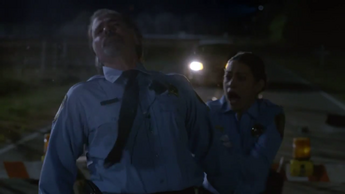 Jeff Fahey (1952 - )
Psycho III (1986) [Duane Duke]: Drowned when Anthony Perkins holds Jeff down with his foot as the car fills with water after Anthony drives it into the swamp.
Split Decisions (1988) [Ray McGuinn]: Killed by Eddie Velez.
Quick (Crossfire) (Video, 1993) [Muncie]: Killed by Teri Polo.
Wyatt Earp (1994) [Ike Clanton]: His death isn't directly mentioned, but it's mentioned in the on-screen text that the remaining Clanton gang members, continued to die (which he is one of them).
Darkman III: Die, Darkman, Die (Video, 1996) [Peter Rooker]: Crushed to death when Arnold Vosloo knocks him into some machinery.
The Sweeper (Video, 1996) [Dale Goddard]: Killed by assassins/corrupt cops (presumably sent by Ed Lauter) he dies as C. Thomas Howell looks on.
Epicenter (Video, 2000) [FBI Agent Moore]: Machine-gunned by Zuma Jay, firing from a helicopter.
Maniacts (2001) [Joe Spinelli]: Shot in the chest by police, after he pretends to hold his lover/accomplice Kellie Waymire hostage so that she'll be spared.
Blue Demon (Video, 2004) [General Remora]: Killed in an explosion when a nuclear bomb attached to a genetically mutated shark detonates just outside the underwater observation room.
Grindhouse (Planet Terror) (2007) [J.T.]: Commits suicide by blowing himself up when he set off a bomb in the military facility, Michael Biehn dies beside him.
Badland (2019) [Huxley Wainwright]: Shot in the chest by Kevin Makely during a showdown.
Locusts: The 8th Plague (2005 TV) [Russ]: Commits suicide/sacrifices himself by setting off a bomb inside the bio-dome in order to destroy the locusts. (Thanks to Stephen)
Under the Dome: Pilot (2013) [Howard "Duke" Perkins]: Dies when his pacemaker explodes after he touches the dome causing him to receive a force feedback jolt.
Community content is available under
CC-BY-SA
unless otherwise noted.