Wiki Targeted (Entertainment)
Play Sound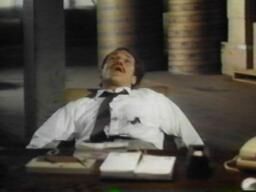 Jay Acovone (1955 - )
Out for Justice (1991) [Bobby Arms]: Although we don't see him die, it is possible that he bled to death after Steven Seagal blows off his leg with a shotgun. But we don't know if he lived or died. It's very possible that he lived and confined to a wheelchair for life.
Crash Dive (Video, 1996) [Murphy]: Thrown off a ledge to his death after a fight on the sub with Michael Dudikoff.
Stargate: SG-1: Moebius: Part 2 (2005) [Major Charles Kawalsky]: In alternate timeline, he is killed in battle with the Jaffa.
Mafia III (2016) [Salvatore "Sal" Marcano]: Depending on player choice, he can die in twelve different ways: (1) Stabbed through the chest and thrown out the window by Alex Hernandez. (2) Machine-gunned by a hit squad that Alex calls in. (3) Shot to death by Alex. (4) Commits suicide by shooting himself in the head if Alex doesn't kill him. (5) Blown up when Alex plants an explosive charge behind his chair. (6) Burned to death with a Molotov cocktail by Alex. (7) Horribly beaten and stabbed in the head by Alex. (8) Battered and neck snapped by Alex. (9) Blasted with a sniper rifle from across the room by Alex. (10) Knifed from behind and thrown through a window by Alex. (11) Thrown to his death by Alex after being stabbed in the kneecap. (12) Violently stabbed in the stomach, gutted and kicked through the window by Alex.
Community content is available under
CC-BY-SA
unless otherwise noted.