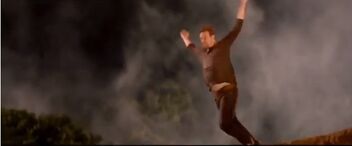 Jason Segel (1980 - )
Forgetting Sarah Marshall (2008) [Peter Bretter]: In a play-within-the-film where Jason is operating a puppet Dracula, he is stabbed in the chest with a stake by the Van Helsing puppet (operated by Bill Hader) (Jason survives the film in reality). (Played for comic effect.)
Despicable Me (2010) [Vector]: Presumably dies on the moon due to lack of oxygen or starvation.
The End of the Tour (2015) [David Foster Wallace]: Commits suicide (off screen) by hanging himself; we learn of his death when Jesse Eisenberg receives a phone call several years after the main portion of the story.
The Discovery (2017) [Will Harbor]: Kill himself by using his father's (Robert Redford) machine to stop his heart so that he can visit Rooney Mara in the afterlife. When he finally comes into contact with Rooney, she reveals that Jason has lived and died a number of times and each time he dies he restarts his life in an alternate universe.
How I Met Your Mother: Platonish (2013) [Marshall Ericksen]: In an elaborate scenario imagined by Neil Patrick Harris, Segel is killed in an explosion (along with Cobie Smulders, Alyson Hannigan and the rest of the people in a bar) when the bomb on Hannigan's chest goes off after Segel and Smulders refuse to meet the terrorists' (whom put the bomb on Hannigan) demand to make out due to their extremely platonic relationship. (Jason survives the episode in reality.) (Played for comic effect.)
Community content is available under
CC-BY-SA
unless otherwise noted.