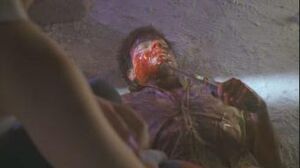 Jason Marsden (1975 - )
Hocus Pocus (1993) [Thackery Binx (voice)]: Playing the voice of an enchanted cat he dies twice, first when he's hit by a bus, and the second time he is fatally wounded by Bette Midler after she tosses him against a tombstone and his immortality wears off after she dies making him free of her curse, he returns to his human form as a spirit and joins his sister in the after life.
How to Make a Monster (2001) [Bug]: Burned to death when he ignites a gas leak in an attempt to destroy the artificial-intelligence motion-capture suit. His body is shown afterwards when Steven Culp and Clea DuVall discover him.
DC Showcase: Jonah Hex (2010; animated short) [Young Man/Bartender]: Playing two voices, "Bartender" is shot to death by Jonah Hex (voiced by Thomas Jane).
Afro Samurai: Kuma (2007;animated) [Sasuke]: Stabbed through the back by an assassin while trying to protect his master.
Syphon Filter: Dark Mirror (2006) [Private Janzen]: Shot to death (off-screen) by a mole. His body is later discovered by James Arnold Taylor.
Jurassic Park: The Game (2011) [Billy Yoder]: Eaten by the Tyrannosaurus Rex.
Community content is available under
CC-BY-SA
unless otherwise noted.