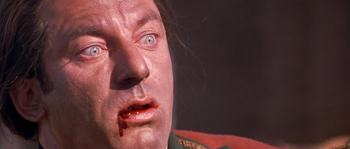 Jason Isaacs (1963 - )
Event Horizon (1997) [D.J.]: Slashed to death at the end of a struggle when the posessed Sam Neill cuts him open (we only see his reactions) and then dissects him off camera. His disembowled body is later seen suspended by wires and hanging chains when Laurence Fishburne discovers him (after seeing the initial attack on camera).
Divorcing Jack (1998) [Cow Pat Keegan]: Killed in an explosion in his car by a bomb planted in a briefcase.
The Last Don II (1998) [Father Luca Tonarini]: Shot to death by gangsters.
St. Ives (1998) [Alain de Keroul de Saint-Yves]: Stabbed to death.
The Patriot (2000) [Colonel William Tavington]: Stabbed in the throat with a bayonet knife by Mel Gibson, after having first been stabbed in the chest.
Peter Pan (2003) [Mr. Darling/Captain James Hook]]: Playing a dual role, "Captain Hook" is eaten by a giant crocodile. "Mr. Darling" survives the movie.
Look Away (2018) [Dan Brennan]: Has his throat slashed with a scalpel by India Eisley.
[Zachary Blaine]: Decapitated with a sword by Elizabeth Gracen while Jason is fighting Adrian Paul.
Castlevania: Abandon All Hope (2020) [Judge] Playing the voice of "Judge" he is stabbed in the chest by Navid Negahban
Community content is available under
CC-BY-SA
unless otherwise noted.