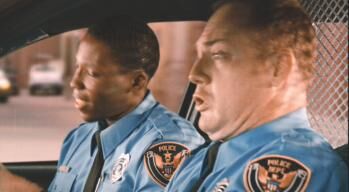 Jason Douglas (1973 - )
Machete (2010) [Patrolman #1]: Stabbed in the back with a machete by Danny Trejo through the seat of the patrol car; Danny then "steers" the car by twisting the machete to make Jason's arms move.
Gantz: Goodbye... (2005; anime) [Tetsuo]: His head explodes due to him uttering Gantz's name outside the game, in front of a biker gang.
Guyver: The Bioboosted Armor: The Third Shadow (2006; anime) [Myumelzee]: Obliterated by Sho Fukamachi/Guyver I (Chris Patton) when he redirects his own sonic waves back at him as Noskov (David Jones) watches.
Guyver: The Bioboosted Armor: The Shaking Skyscraper (2007; anime) [Oswald A. Lisker/Guyver II]: Killed by Sho Fukamachi/Guyver I (Chris Patton) when he gets punched in the head, causing the Control Metal to fly out of his forehead and resulting in him being eaten alive from the inside out by the Guyver armor just as the Chronos Japan HQ building self-destructs.
Dragon Ball Z Kai: I Will Defeat Frieza! Another Super Saiyan! (2011; anime) [King Cold]: Blasted in the chest by Future Trunks (Eric Vale), then obliterated with another blast when he pleads for Future Trunks to spare his life.
Attack on Titan: Beast Titan (2017; anime) [Mike Zacharias]: Torn apart and eaten by several Titans, on the orders of the Beast Titan (Jason Liebrecht).
The Walking Dead: Do Not Send Us Astray (2018) [Tobin]: Dies from an infection after he is stabbed in the chest with a zombie-blood infected knife by Dan Johnson; He later reanimates as a zombie and is stabbed in the head by Melissa McBride.
Preacher: The Light Above (2018) [Satan]: Shot in the head by Graham McTavish, after Graham learns of the role Jason played in the death of his family. Thanks to Graham's magical guns, Jason cannot be brought back from death, and he is soon after replaced by Noah Taylor as the ruler of Hell.
Aliens: Colonial Marines (2013) [Captain Jeremy Cruz]: Sacrifices himself by using his heavily damaged dropship to push an Alien Queen out into the vacuum of space.
Community content is available under
CC-BY-SA
unless otherwise noted.