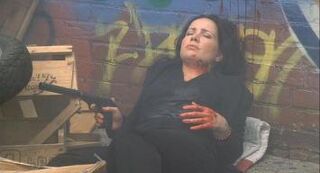 Janeane Garofalo (1964 - )
Film Deaths
Edit
Sweethearts (1997) [Jasmine]: Commits suicide (off-screen). Although her death is never confirmed, it's established in the film that she's contemplating suicide, so when Mitch Rouse is unable to contact her and she fails to show up for their date, it's implied that she's gone through with it. (Thanks to Becca)
Steal This Movie! (2000) [Anita Hoffman]:
Wonderland (2003) [Joy Miller]: Beaten to death with a lead pipe by drug dealers during a home invasion; shown in a rapid-fire sequence intercut with crime-scene and morgue photos.
Jiminy Glick in Lalawood (2004) [Dee Dee]: Stabbed in the back by Linda Cardellini, after Linda finds Janeane in the bedroom with the passed-out Martin Short. Her body is shown afterwards when Martin regains consciousness (shown very briefly, and wearing a wig, so that both Martin and the viewers are led to believe it's Elizabeth Perkins), and the murder is shown in a flashback later on when the victim's actual identity is revealed. (Played for comic effect.) (Thanks to Filmfanster)
TV Deaths
Edit
The Sopranos: D-Girl (2000) [Janeane Garofalo]: In a film-within-a-film scene when Michael Imperioli visits a movie set, Janeane and Sandra Bernhard shoot each other in the street. We don't see the filming of the shoot-out; Janeane and Sandra are shown lying in the street afterwards and saying their last words before the director yells "Cut!" (Thanks to Melissa)
Freak Show: Mohel-Me-Not Part 2 (2006) [The Bearded Clam]: Cooked alive by a group of Orthodox Jews and fed to "The Jewish Messiah," a giant made up of circumcised foreskins. (Played for comic effect).
Community content is available under
CC-BY-SA
unless otherwise noted.