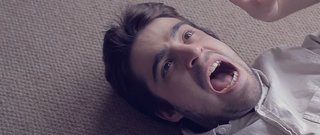 Jamie Spicer-Lewis (19?? -)
a.k.a. RageNineteen
Deaths in Web Video
Edit
Disney's Jamie of Mars (2012) [Jamie Spicer-Lewis]: Dies of unspecified circumstances, at some point before the video begins. His body appears throughout the video after being discovered by Chris Bingham, who originally believes his consciousness has been transferred to another body, until a note left by Jamie confirms that he is actually dead. (Played for comic effect.)
Without Dean (2012) [Jamie Spicer-Lewis]: Appears as a corpse at the end of the video, lying in a box in an alley, after Chris Bingham and Dean Dobbs mistake him for Dean. (Although this video takes place AFTER the events of Disney's Jamie of Mars, this was uploaded first.) (Played for comic effect.)
Eddsworld: Space Face (2012) [Commander Bai]: Accidentally ejected himself into space, along with the rest of his crew.
Community content is available under
CC-BY-SA
unless otherwise noted.