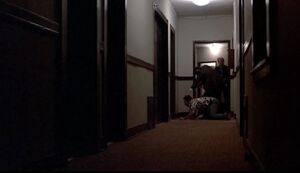 James Russo (1953 - )
China Girl (1987) [Alby]: Stabbed repeatedly in the back and stomach/side by one of Russell Wong's cohorts, during a struggle with Russell. He manages to crawl/stagger back up the stairs, (to bang on his door) before dying in the arms of his mother (Judith Malina). His body is later seen in an open casket funeral when his brother (Richard Panebianco) says his goodbyes.
We're No Angels (1989) [Bobby]: Shot to death by police as he's trying to cross the Canadian border while holding a child hostage; his body then falls into the river. (Thanks to ND)
İllicit behavior (1992) [Tanner]: Shot to death by Robert Davi.
No Way Home (1996) [Tommy]: Shot to death by police outside his house after deliberately engaging them in an effort to avoid going back to jail as his brother, Tim Roth, looks on in shock.
Open Range (2003) [Sheriff Poole]: Shot to death in a big shoot-out. (Thanks to Arben)
Shut Up and Shoot! (2006) [David Sanchez]: Shot to death in his private office by Silvio Pollio; it later turns out to be a faked death by Silvio, who's actually part of an undercover FBI operation. (Played for darkly comic effect.)
Public Enemies (2009) [Walter Dietrich]: Shot in the back by prison guards just as he reaches the escape vehicle. Johnny Depp and David Wenham hold onto him for some distance when they drive off but let go of him when he is dead.
Django Unchained (2012) [Dicky Speck]: Shot to death by Jarrod Bunch while James is pinned beneath his horse, after Christoph Waltz releases Jarrod and the other slaves and offers them a choice of what to do with James. (Thanks to Tommy, Arben, Tim, and ND)
Code of Honor (2016) [Vincent Romano]: Shot in the head with a sniper rifle by Steven Seagal as James is being escorted to a police car outside court.
Community content is available under
CC-BY-SA
unless otherwise noted.