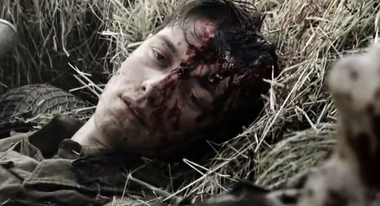 James McAvoy (1979 - )
Bright Young Things (2003) [Simon Balcairn]: Commits suicide by sticking his head in the stove after turning on the gas, after telephoning in a libelous story to his editor.
Inside I'm Dancing (2004) [Rory O'Shea]: Dies (off-screen) of respiratory failure due to muscular dystrophy. We last see him talking to Steven Robertson in the hospital, followed by a scene of James' funeral.
Atonement (2007) [Robbie Turner]: Dies of septicemia while waiting to be shipped back home; his body is shown in a flashback when Vanessa Redgrave reveals what happened to him. 
Filth (2013) [Bruce Robertson]: Commits suicide by hanging himself; the film smash cuts to credits as his neck snaps.
Trance (2013) [Simon]: Mortally wounded when Rosario Dawson drives a car into James as he is about to kill Vincent Cassel in another car that he's set on fire, crushing him between them (setting him on fire in the process), and knocking the other car and James (who is standing on the roof) into the Thames river.
Submergence (2017) [James More]: Accidentally killed in an airstrike.
Glass (2019) [Kevin Wendell Crumb]: Shot in the stomach by a police sniper. He died of blood loss while talking to Anya Taylor-Joy by his side.
Band of Brothers: Replacements (2001) [Private James Miller]: Killed in an explosion when a shell hits his trench during a battle.
The Inspector Lynley Mysteries: Payment in Blood (2002) [Gowan Ross]: Slain with a hammer in the boiler room.
ShakespeaRe-Told: Macbeth (2005) [Joe Macbeth]: Stabbed several times in the stomach by Richard Armitage, when he learns that James has killed a slew of people in the way of his owning a three Michelin star restaurant.
Watership Down (2018) [Hazel]: Dies of old age and becomes a spirt.
Brother of Joy McAvoy (musician)
Community content is available under
CC-BY-SA
unless otherwise noted.