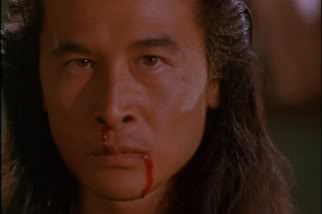 James Lew (1952 - )
Note: As a Professional Stunt Performer, James has probably died in the place of other Actors.
Deaths in Films
Edit
Killpoint (1984) [Nighthawk`s Gunman #1]: I recall that he gets shot to death, but I don`t remember by whom.
Showdown in Little Tokyo (1991) [Chang Sing #1]: Shot to death in a bath house by Brandon Lee after James pulls out an uzi. Also possibly plays one of the gunmen shot by Dolph Lundgren's dojo home.
Ulterior Motives (1993) [Yakuza #5]: Shoved off the end of a stairway after trying to engage in a sword-fight with Thomas Ian Griffith.
Hot Shots: Part Deux (1993) [Kickboxer Opponent]: Kicked in the testicles by Charlie Sheen during a kickboxing match; he spits out his testicles (which are actually walnuts) out of his mouth a few seconds later (Played for comic effect).
Ballistic (1995) [Woo]: Killed at the end of a fight with Marjean Holden.
Midnight Man (Blood For Blood) (1995) [Prince Samarki]: Hanged to death at the end of a fight with Lorenzo Lamas, who wraps a rope around James' neck and then pushes it into a fan that pulls James up at the end of a fight.
Balance of Power (Hidden Tiger) (1996) [Shinji Takamura]: Trampled to death by Billy Blanks during a fight.
Boogie Boy (1998) [Jason]: Killed at the end of a fight with Mark Dacascos.
Olympus Has Fallen (2013) [Stunts]: His death presumably occurs off-screne but it can be inferred that he might've died while taking the White House lawn by SS Agents and White House Commandos or been blown up as one of the many masked hostages and terrorists who Rick Yune rigs with a bomb on one of the extraction planes.
Deaths in Television
Edit
FlashForward: Gimme Some Truth (2009) [Stunt Driver]: Presumably shot to death off-screen by the various police officers.
Community content is available under
CC-BY-SA
unless otherwise noted.