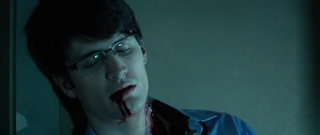 James Lafferty (1985 - )
Deaths in Film
[
]
S. Darko (S. Darko: A Donnie Darko Tale) (2009) [Justin 'Iraq Jack' Sparrow]: Crushed to death by a meteorite, after he manipulates time to go back to the point when the meteorite struck the windmill (sacrificing himself to prevent the "tangent universe" from coming about). The scene ends with him awaiting impact; his body is shown being carried away on a stretcher after the proper universe is restored.
Oculus (2013) [Michael Dumont]: Accidentally stabbed in the neck by Karen Gillan, when Karen is startled by what she believes is the ghost of Katee Sackhoff.
Small Town Crime (2017) [Tony Lama]: Shot to death/finished off by John Hawkes after Robert Forster wounds him in the leg and face with a rifle. (the shot to the face blows-off his jaw but doesn't kill him).
Notable Connections
[
]