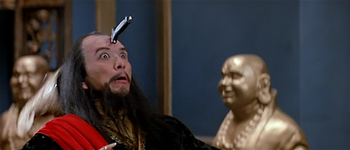 James Hong (1929 - )
Airplane! (Flying High) (1980) [Japanese General]: Commits suicide by hara-kiri while sitting next to Robert Hays on the plane, to escape from having to listen to Robert's flashback. (Played for comic effect)
Blade Runner (1982) [Hannibal Chew]: Killed (off-screen) by Rutger Hauer and Brion James, although neither his murder nor his body is shown explicitly in the theatrical release. Apparently there's a deleted scene where Hong's frozen body is shown.
Black Widow (1987) [Shin]: Dies of a heroin overdose in his office, when Theresa Russell forces him to take the drugs at gunpoint. His body is shown afterwards when the police investigate.
Cyber Bandits (1995) [Tojo Yokohama]: Beaten to death (off-screen) by Nils Allen Stewart and another thug after they break into his tattoo parlor while he's working on Martin Kemp. His body is shown afterwards when Martin regains consciousness.
Guns and Lipstick (1995) [Mr. Song]: Shot repeatedly in the chest by a hitman in a drive-by shooting outside the police station.
The Lost Medallion: The Adventures of Billy Stone (2013) [Faleaka]: Shot in the chest/neck with a crossbow bolt by one of Mark Dacascos's assassins (who is then killed with a slingshot fired stone to the head), when he sacrifices himself by leaping in front of the projectile to shield Billy Unger (he dies while talking to Billy and the other kids).
Summoned (2013) [Frank]: Killed (off-screen) by Tim Abell. His body is shown afterwards when a nurse enters his room to wake him up.
Batman: Soul of the Dragon (2021; animated) [O-Sensei]: Stabbed in the chest with a sword by Richard Dragon (Mark Dacascos).
Johnny Ringo: Single Debt (1960) [Charlie Chung]: Dies of heat stroke and dehydration, along with his father and sister, Peter Chong and Judy Dan, after being walked 20 miles into the waterless desert by Warren Oates and his brothers and left to walk back to their farm. He lives just long enough to tell Don Durant what had happened. (Thanks to Brian)
Star Wars: The Clone Wars: Crystal Crisis (2014; animated) [Endente]: Decapitated by General Grievous (Matthew Wood) for his failure after Anakin Skywalker (Matt Lanter) and Obi-Wan Kenobi (James Arnold Taylor) for taking the Kyber Crystal.
Sleeping Dogs (2012) [Uncle Po]: After being shot he is killed by Tom Wilkinson in the hospital as he injects lethal chemicals into his IV.
Community content is available under
CC-BY-SA
unless otherwise noted.