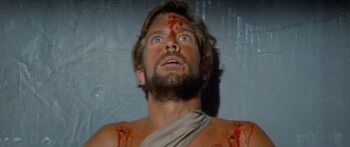 James Franciscus (1934 - 1991)
The Valley Of Gwangi (1969) [Tuck Kirby]: "Tugged" to death by Gwangi and a stowaway circus lion (Tugged in this case means that he was pulled in two in a "Tug Of War" style manner).
Good Guys Wear Black (1978) [Conrad Morgan]: Drowned in the ocean when he attacks Chuck Norris (who survives) in James' limousine, causing Chuck to drive the limousine into the ocean.
The Greek Tycoon (1978) [Pres. James Cassidy]: Assassinated while on a beach. (I haven't seen this, but I read it depicts he's killed and the character is loosely based off President John F. Kennedy)
Killer Fish (1979) [Paul Diller]: Eaten by the Piranha.
Ex-Mr. Kathleen 'Kitty' Wellman
Community content is available under
CC-BY-SA
unless otherwise noted.