Spider-Man: No Way Home Trailer Dropped - The Loop
Play Sound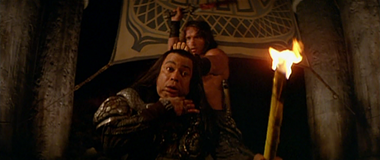 James Earl Jones (1931 -)
James Earl Jones is known for his distinctive bass voice.
Film Deaths:
[
]
The Comedians (1967) [Dr. Magiot]: Shot to death by the Haitian secret police because of his opposition to "Papa Doc" Duvalier's regime.
The River Niger (1976) [Johnny Williams]: Shot by gang members in front of Louis Gossett, Jr. and Co. after Jones stands up to them for intruding and breaking into Louis' family's house. Gossett later comforts and talks to Jones after the gangsters leave as Jones gives a final speech before succumbing to the bullet wound.
Blood Tide (Demon Island; The Red Tide) (1982) [Frye]: Killed in an explosion when he sets off a bomb to destroy the monster in its cave. (Thanks to Stephen)
The Flight of Dragons (1982; animated) [Ommadon the Red Wizard] Disintegrates into dust after John Ritter denies all magic and counters his declarations of magic with explainations of science, causing James' character to die from disbelief.
Pinocchio and the Emperor of Night (1987) [The Emperor of Night]: Destroyed when Pinocchio (voiced by Scott Grimes) turns into a blue orb thanks to the Blue Fairy's magic.
The Ambulance (1990) [Lieutenant Spencer]: Stabbed in the chest by one of Eric Braeden's thugs and then run over by the ambulance.
Clear and Present Danger (1994) [Admiral James Greer]: Dies of pancreatic cancer off-screen in the hospital. His death is revealed when Harrison Ford gets a phone call informing him. His coffin is later seen being escorted away by various military officers.
Scary Movie 4 (2006) [Narrator]: Hit by a bus after he walks on-camera while delivering the closing narration. (Played for comic effect; parodying a death scene from Final Destination.) (Thanks to Alex)
The Lion Guard: Return of the Roar [Mufasa]: Playing the same lion, that seen a ghost that him son (Rob Lowe) asking him advice.
Coming 2 America (2021) [King Jaffe Joffa]: Dies of old age while talking to his son (Eddie Murphy).
TV Deaths:
[
]
The Cay (1974 TV) [Timothy]: Dies from debris from a storm after James sheltered

Alfred Lutter

.
Great Performances: King Lear (1974) [King Lear]: Dies of old age, compounded by heartbreak over the death of

Lee Chamberlin

.
The UFO Incident (1975 TV) [Barney Hill]: Dies off-screen a few years after the events depicted in the movie; his death is mentioned in on-screen text telling what happened to the people involved in the incident.
My Little Pony (G1): The Quest of the Princess Ponies Part 4 (1987) [Lavan]: Shattered to pieces when his magic beam was reflected at him by Princess Tiffany (voiced by Kath Soucie), Princess Primrose (Katie Leigh), Princess Serena (Jennifer Darling), Princess Royal Blue (Sherry Lynn), Princess Sparkle (Alice Playten), and Princess Starburst (Kath Soucie) with their magic wands.
By Dawn's Early Light (1990) [Looking Glass General, a.k.a. Alice]: Killed in a plane crash when they deliberately crash into Air Force One to stop Darren McGavin from launching a nuclear assault. (Thanks to Darren)
Everwood: Lost and Found (2006) [Will Cleveland]: Dies (off-screen) of natural causes in his sleep. He does not actually appear in this episode; we only learn of his death when Gregory Smith gets a phone call informing him. (Thanks to Alex)
House M.D. : The Tyrant (2009) [President Dibala]: Dies from severe bleeding in the lungs after medical care is deliberately corrupted by

Jesse Spencer

.
Video Game Deaths
[
]
Command & Conquer: Tiberian Sun (1999) [General James Solomon]: In the game's Nod campaign, James dies when the space station he is occupying is destroyed by an ICBM launched by Joseph D. Kucan.
Notable Connections
[
]
Mr.

Cecilia Hart (widowed)
Gallery
[
]