James Cosmo (1948 - )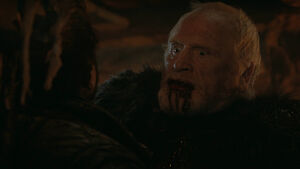 Film Deaths
Edit
The Virgin Soldiers (1969) [Waller]: Shot in the head in the firefight after the Malay insurgents have derailed the train carrying the British troops. (Thanks to Brian)
Highlander (1986) [Angus MacLeod]:
Braveheart (1995) [Campbell]: Mortally wounded in the stomach by an English soldier with a battle axe at the Battle of Falkirk. He dies in a later scene talking to his son (Brendan Gleeson).
To End All Wars (2001) [Lt. Col. Stuart McLean]: Shot in the head by Japanese soldiers.
The Christmas Candle (2013) [Herbert Hopewell]: Dies of a heart attack while putting out a fire in the church, as Hans Matheson watches on in shock.
Estranged (2015) [Thomas]: Shot in the chest and head by Amy Manson.
Ben-Hur (2016) [Quintus]: Drowns after he falls into the ocean after Jack Huston hits James with his oar when he notices him hanging off the ship in battle.
Dark Signal (2016) [Alan Keller]: Bludgeoned repeatedly with a pair of a bolt-cutters by Gareth David-Lloyd, as Joanna Ignaczewska watches in horror.
Project 12: The Bunker (2016) [Brian Balanowsky]: Sacrifices himself by detonating dynamite, as the whole building begins to crumbles.
Wonder Woman (2017) [Field Marshall Haig]: Dies (off-screen) in the space of time between the 1918 scenes and the modern day framing scenes.
The Hole in the Ground (2019) [Des Brady]:
TV Deaths
Edit
The Colour of Magic (Terry Pratchett's The Colour of Magic) (2008 mini-series) [Galder Weatherwax]: Pushed off of the top of the University tower by Tim Curry.
Game of Thrones: And Now His Watch Has Ended (2013) [Lord Commander Jeor Mormont]: Stabbed in the back by Luke Barnes during a Nightwatch mutiny at Craster's Keep; he remains alive long enough to try and strangle Luke before finally succumbing to his injury, whereupon Luke stabs him several more times in the throat for good measure.
Community content is available under
CC-BY-SA
unless otherwise noted.