Wiki Targeted (Entertainment)
Play Sound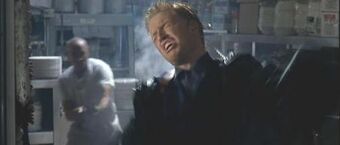 Jake Busey (1971 - )
S.F.W. (1994) [Morrow Streeter]: Shot to death by kidnappers. (Thanks to ND)
The Frighteners (1996) [Johnny Charles Bartlett]: Executed (off-screen) in the electric chair, some time before the story takes place; he appears as a ghost in the present day, and finally "dies" for good after his spirit (along with Dee Wallace Stone's) is sucked into the pit of Hell.
Contact (1997) [Joseph]: Killed in an explosion when he detonates a bomb strapped to his waist, in order to kill Tom Skerritt and everyone working at the launch site. (Thanks to ND)
Black Cat Run (1998) [Deputy Norm Babbitt]: Killed in an explosion when he drives a tanker truck into Peter Greene's vehicle (having been mortally wounded by Peter). (Thanks to Gary)
The Hitcher II: I've Been Waiting (2003) [Jack]: Killed in an explosion when Kari Wuhrer fires at a leaking tanker truck, igniting the fuel, while trying to shoot her. (Thanks to Gary and Stephen)
Identity (2003) [Robert Maine]: Gets a baseball bat shoved down his throat (off-screen) by Bret Loehr while Jake is tied up in the hotel office. His body (actually a special-effects dummy) is shown afterwards when John Cusack and Ray Liotta discover him. (There is an additional twist to the movie, which I won't reveal.) (Thanks to PortsGuy)
Death Row (Haunted Prison) (2006) [Marco]: Burned to death when he falls into a pit of fire, while Scott Whyte tries to pull him up but loses his grip. He appears as a spirit later on. (Thanks to Stephen)
Road House 2: Last Call (2006) [William Decarie a.k.a. Wild Bill]: Impaled on a symbolic wooden black pelican after being kicked out of a window by Johnathan Schaech at the end of a fight.
Wristcutters: A Love Story (2006) [Brian]: Commits suicide (off-screen, exact method unclear) some time before his first appearance; he appears as a spirit in the afterlife for suicides.
Nazis at the Center of the Earth (2012) [Dr. Adrian Riestad]: Sacrifices himself (along with Marlene Okner) when Busey detonates a bomb to bring down the Nazi space ship.
Paranormal Movie (2013) [Stepdad]: Dies of a heart attack from fright after seeing ghosts in his house. (Played for comic effect)
Wicked Blood (Bad Blood) (2014) [Bobby Stinson]: Killed in an explosion when Abigail Breslin throws a grenade into Jake's car after gluing his hands to the steering wheel.
Most Likely to Die (2015) [Tarkin]: Garroted with a rope by either Chad Addison or John Doe (it's unclear who the murderer is), as Jake is watching Tatum Miranda changing out of her bikini.
Arbor Demon (Enclosure) (2016) [Sean]: Impaled in the back of the head by antlers after Fiona Dourif pushes him onto them.
Son of Gary Busey
Community content is available under
CC-BY-SA
unless otherwise noted.