watch 01:12
The Loop (TV)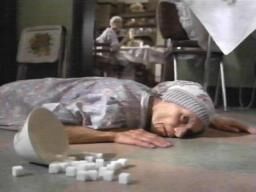 Jackie Burroughs (1939 - 2010)
A Winter Tan (1987) [Maryse Holder]: Killed (off-screen) by Hernando Gonzales. (The movie doesn't say how she was killed, and I haven't been able to find that information about the actual case.) We learn of her death when Diane D'Aquila tells the camera about it, followed by a closing scene of Jackie narrating her final letter.
Bleeders (Hemoglobin; The Descendant) (1997) [Lexie]: Throat slashed by a mutant. (Thanks to Keenan)
Last Night (1998) [The Runner]: Dies (along with everybody else in the world) when the world ends for unexplained reasons. The screen fades to a flash of light and the end of each character's final scene.
Willard (2003) [Mrs. Stiles]: Accidentally falls down the cellar stairs (off-screen). Her body is shown afterwards when her son (Crispin Glover) discovers her on the staircase (with rats crawling over her), and again during her funeral.
Smallville: Hourglass (2001) [Cassandra Carver]: Dies of shock after foretelling Michael Rosenbaum's future (which had him becoming President and a methaphor of him spreading death and destruction).
Dead Like Me: Reaping Havoc (2003) [Florence]: Accidentally killed in a fall (off-screen) in her kitchen; her body is shown lying on the floor afterwards while her spirit talks to Callum Blue in the next room.
Community content is available under
CC-BY-SA
unless otherwise noted.