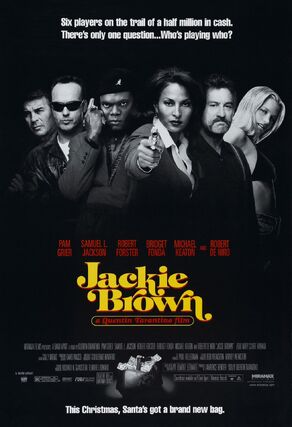 Jackie Brown (1997)
Directed: Quentin Tarantino
Jackie Brown (Pam Grier) is a flight attendant who gets caught in the middle of smuggling cash into the country for her gunrunner boss (Samuel L. Jackson). When the cops try to use Jackie to get to her boss, she hatches a plan -- with help from a bail bondsman (Robert Forster) -- to keep the money for herself.
The Casting Director's name is Jaki Brown.
Samuel L. Jackson named this as his favorite Quentin Tarantino film.
Michael Keaton reprises his role as Ray Nicolette in Out of Sight (1998), also based on a novel by Elmore Leonard.
Sylvester Stallone originally wanted to play Louis, while John Travolta was the first choice to play Ray Nicollete.
Quentin Tarantino met Robert Forster in a restaurant and handed him the script, saying "You're going to do this, and that's all there is to it". Forster was naturally thrilled, having had a major career slump. This film saw him come back in a big way, even landing an Oscar nomination.
When Robert De Niro first got a hold of the script, he wanted to play the role of Max Cherry. Quentin Tarantino wanted to work with De Niro, but had his heart set on Robert Forster as Cherry, so he gave the role of Louis to De Niro.
Community content is available under
CC-BY-SA
unless otherwise noted.