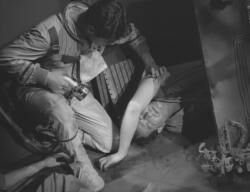 Jack Klugman (1922 - 2012)
The Twilight Zone: A Game of Pool (1961) [Jesse Cardiff]: Dies (off-screen), presumably of old age/natural causes; he appears as a spirit in the afterlife in the story's epilogue, being called back to earth to answer a new challenger.
The Twilight Zone: Death Ship (1963) [Captain Paul Ross]: Killed (off-screen), along with Fred Beir and Ross Martin, when their ship crashes on an alien planet. Their bodies are shown afterwards when the three of them find the crashed ship and discover their own bodies. A variety of explanations are offered for the situation (time travel, a telepathic illusion) until it's finally revealed that they are all in fact already dead, and are unable to move on to the afterlife due to Jack's refusal to accept his death.
The Twilight Zone: In Praise of Pip (1963) [Max Phillips]: Shot in the stomach by Kreg Martin; he dies some time later at the closed fairground, after having a vision of his son (Bill Mumy) and offering to give his own life to save his son.
Ex-Mr. Brett Somers (contrary to some belief)
Community content is available under
CC-BY-SA
unless otherwise noted.