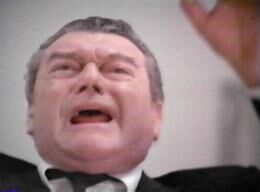 Jack Hawkins (1910 - 1973)
Film Deaths
[
]
The Black Rose (1950) [Tristram Griffin]: Fatally injured in an explosion when he ignites some gunpowder with a flaming arrow. (Thanks to Brian)
The Adventurers (Fortune In Diamonds) (1951) [Pieter Brandt): Killed when the roof of the diamond mine collapses on him after fighting

Peter Hammond

. (Thanks to Brian)
Land of the Pharaohs (1955) [Pharaoh Khufu]: Bleeds to death after his legs are slashed in a swordfight with Sydney Chaplin, on top of having been previously stabbed in the chest. (Thanks to Brian)
Rampage (1963) [Otto Abbot]: On the roof of an apartment block, trying to shoot an unarmed Robert Mitchum, he is killed by the Enchantress (a malay leopard/tiger cross) which jumps on him, mauls him and bites his throat. (Thanks to Brian).
Shalako (1968) [Sir Charles Daggett]: Shot to death by Stephen Boyd. (Thanks to Brian)
The Adventures of Gerard (1970) [Millefleurs]: Shot by Mark Burns' soldiers, as he tries to kill Peter McEnery.
Waterloo (1970) [Gen. sir Thomas Picton]: Killed during battle, we only see a shot go though his hat and he falls off his horse (we don't see him again after).
Kidnapped (1971) [Captain Hoseason]: Drowned (off-screen) after his ship hits the rocks and sinks during a storm. (Thanks to Brian)
Theatre of Blood (1973) [Solomon Psaltery]: Presumably dies (off-screen) in prison; he's last seen being taken away, but Ian Hendry mentions that he will presumably not make it.
Tales that Witness Madness (1973) [Dr. Nicholas]: Mauled to death (off-screen) by an "imaginary" tiger in the asylum; the movie ends with Jack screaming as the tiger pounces at him.
TV Deaths
[
]
Notable Connections
[
]