Wiki Targeted (Entertainment)
Play Sound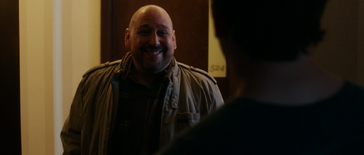 JB Blanc (1969 - )
A Cat in Paris (Une vie de chat) (2010) [Victor Costa]: Falls to his death after jumping towards a hallucinatory statue. (See also Jean Benguigui in the French language version.)
War Dogs (2016) [Bashkim]: Murdered off-screen by Bradley Cooper and his men. While it's never confirmed its highly implied as his wife says he is missing and there are hints throughout the film that he was murdered. 
Hellsing Ultimate: Chapter VIII (2012; anime) [Enrico Maxwell]: After being left to die by a disillusioned Steven Brand, he gets impaled by the spears of Crispin Freeman's Wallachian Knight familiars. As he muses with disbelief over dying alone, he futilely reaches into the sky, calling for Jesus as he dies.
Dragons: Race to the Edge: Shell Shocked, Part 2 (2017) [Ryker Grimborn]: Drowned to death after his ship gets submerged by a Submaripper dragon.
Saints Row IV (2013) [Zinyak]: Has his spinal column ripped out by the player after a boss battle at the end of the game.
Minecraft: Story Mode: Above and Beyond (2017) [Romeo/Admin]: There are two different ways that Romeo can die: first, Jesse or Jessie (Patton Oswalt or Catherine Taber) can leave him to slowly die in his fortress, or second, he can brought along and shortly after distract the Colossus and sacrifice himself and die later so the others can escape (however, depending on a previous choice in a past episode, Romeo can be brought along only for Radar (Yuri Lowenthal) to kill the colossus and they all survive.)
Mortal Kombat 11 (2019) [Kano]: Playing both the past and present day versions of Kano, the younger Kano is killed via gunshot to the head by Ronda Rousey after being beaten in a hand-to-hand fight. The present-day Kano is erased from existence seconds later.
Community content is available under
CC-BY-SA
unless otherwise noted.