House of the Dragon Trailer - The Loop
Play Sound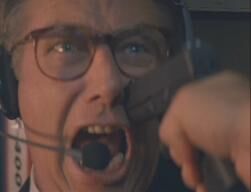 J.T. Walsh (1943 - 1998)
Deaths in Film
[
]
House of Games (1987) [The Businessman]: Accidentally shoots himself in the stomach with his own gun during a struggle with Lindsay Crouse. It is later revealed that J.T. was faking his death.
Tequila Sunrise (1988) [DEA Agent Hal Maguire]: Killed in an explosion or burned to death after being shot repeatedly in the back by Kurt Russell after Walsh ignites the leaking fuel from a speedboat while shooting at Mel Gibson (having shot Raul Julia).
Narrow Margin (1990) [Michael Tarlow]: Shot in the chest and head by Nigel Bennett, as Anne Archer looks on helplessly.
Defenseless (1991) [Steven Seldes]: Stabbed repeatedly in the face and chest (presumably by George P. Wilbur). His body is later seen when Barbara Hershey returns to a bathroom stall to discover him dead.
A Few Good Men (1992) [Lt. Col. Matthew Andrew Markinson]: Commits suicide (off-camera) by shooting himself in the mouth; the scene cuts away after he places the gun in his mouth.
Needful Things (1993) [Danforth Keeton III]: Commits suicide by blowing himself up with an explosive in an attempt to kill Max von Sydow.
Red Rock West (1993) [Wayne Brown]: Possibly died (off-screen) after being stabbed in the throat with a swiss knife throw by Dennis Hopper in graveyard.
Black Day Blue Night (1995) [Lt. John Quinn]: Shot in the stomach by Mia Sara after she first shoots him in the shoulder making him fall back into a pool.
Executive Decision (1996) [Senator Mavros]: Shot in the head (off-camera) by David Suchet while J.T. is talking to Len Cariou over the phone; we only hear the shot as Kurt Russell listens helplessly.
Persons Unknown (1996) [Cake]: Shot to death by Joe Mantegna causing him to fall off a bridge (we only see Joe firing the gun).
Breakdown (1997) [Warren 'Red' Barr]: Crushed to death when Kathleen Quinlan dislodges the truck from the edge of the bridge, causing it to fall on him, after J.T. had fallen from the truck during a struggle with Kurt Russell.
Hidden Agenda (1998) [Jonathan Zanuck]: Killed at the end of a stuggle/shoot-out.
The Negotiator (1998) [Inspector Terence Niebaum]: Shot repeatedly in chest and stomach by Nestor Serrano after revealing Serrano, Tim Kelleher, and Leonard Thomas are corrupt; he dies as Samuel L. Jackson tries to save him. His body is later seen when shown to Kevin Spacey.
Deaths in Television
[
]
The X-Files: The List (1995) [Warden Leo Brodeur]: Killed when his car swerves into a tree when an undead Badja Djola grabs his face and neck/him from behind the back seat. His body is later seen as a fly settles on his face.
Gang in Blue (1996 TV) [Lt. William Eyler]: Shot repeatedly in the stomach and chest by Mario Van Peebles after Walsh shoots Josh Brolin (having been secretly allowed by one of his cohorts to grab said cops' gun).
Dark Skies: Bloodlines (1997) [Capt. Frank Bach]: Shot dead by Conor O'Farrell after Connor reveals himself to be possessed by an alien spy/plant/mole.
Gallery
[
]