Wiki Targeted (Entertainment)
Play Sound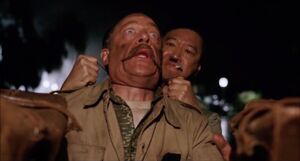 J.K. Simmons (1955 - )
The Ladykillers (2004) [Garth Pancake]: Garrotted from behind by Tzi Ma when J.K. and Diane Delano are preparing to run off with the money (their bodies are later seen when Tom Hanks drops them off a bridge onto a passing garbage boat). (Thanks to James)
Aliens in the Attic (2009) [Skip]: Providing the voice of an alien, J.K. is eaten by a crow or bird of prey after being shrunk to the size of a rodent.
Klaus (2019;animated) [Klaus]: Dies of old age as he goes to join his wife in the afterlife, his body then dissolves into snow.
21 Bridges (2019) [Captain Matt McKenna]: Shot in the head by Chadwick Boseman (who shoots him twice) at the end of the shootout between J.K, Chadwick and other cops.
Palm Springs (2020) [Roy]: Given the time loop nature of the story, J.K. dies several times both on screen and off, but ends up waking up with the day starting over. The only onscreen death seen is when Cristin Milioti runs him over as J.K. is about to kill Andy Samberg. (Played for Comedic Effect)
Ben 10 Ultimate Alien: Escape from Aggregor (2010; animated) [Magister Prior Gilhil]: Shot in the back by Aggregor (voiced by John DiMaggio) when he discovers Galapagus (voiced by John DiMaggio), Andreas, P'andor, Bivalvan, and Ra'ad (all four voiced by Dee Bradley Baker) imprisoned on his ship. (Aggregor is later seen wearing his uniform when he captures Galapagus.)
NSTF:SD:SUV: One Cabeza, Two Cabeza, Three Cabeza... Dead! (2011) [Frank Forrest]: Explodes after Paul Scheer lights Simmons on fire while Simmons is under the influence of the lethal cabeza drink. (Played for comic effect)
Command & Conquer: Red Alert 3 (2008) [President Howard T. Ackerman]: Killed in an explosion when the player character's military destroys his limousine or helicopter (depending on the vehicle J.K. attempted to escape inside of).
Portal 2 (2011) [Cave Johnson]: Dies from a terminal illness caused by his exposure to moon rocks several years prior to the events of the game.
Community content is available under
CC-BY-SA
unless otherwise noted.