Spider-Man: No Way Home Trailer Dropped - The Loop
Play Sound
Jô Shishido (1933 - 2020)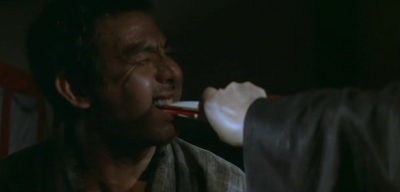 Film Deaths
[
]
Rusty Knife (Sabita naifu) (1958) [Shimabara]: Pushed out of a train into another passing train while they are passing each other.
Voice Without A Shadow (Kagenaki joe) (1958) [Hamazaki]: Strangled to death by Shinsuke Ashida off-screen.
Cruel Gun Story (Kenjû zankoku monogatari) (1964) [Togawa]: Shot to death by Tamio Kawachi who thinks he's someone else. Dies while the building he is in burns down.
Gate of Flesh (Nikutai no mon) (1964) [Shintaro Ibuki]: Shot to death by his fellow yakuza members.
Branded To Kill (Koroshi no rakuin) (1967) [Gorô Hanada]: Dies after falling out of a boxing ring after being shot numerous by Kôji Nanbara whom he happens to kill as well (His character returns in Pistol Opera (2001) only he's played by Mikijirô Hira).
Massacre Gun (Minagoroshi no kenjû) (1967) [Ryûichi Kuroda]: Shot to death by Hideaki Nitani whom he also guns down.
Three Lakes Prison (San ike kangoku: Kyo aku han) (1973) [Prisoner] Shot to death by Bin Amatsu.
New Battles Without Honor and Humanity 1 (Shin jingi naki tatakai) (1974) [Hachiro Tachibana]: Shot to death by Hiroki Matsukata while trying to shoot him, but he wasted too much time laughing.
Samurai VS Bandit Squadron (Kumokiri Nizaemon) (1978) [Tominoichi]: Has a piece of wood slammed inside his mouth by Tatsuya Nakadai on top of being stabbed in the back.
Flower and Snake II (Hana to hebi 2: Pari/Shizuko) (2005) [Takayoshi Tooyama]: Dies while in the middle of sexual intercourse of a heart attack. We see a picture of him at his memorial.
TV Death
[
]
None