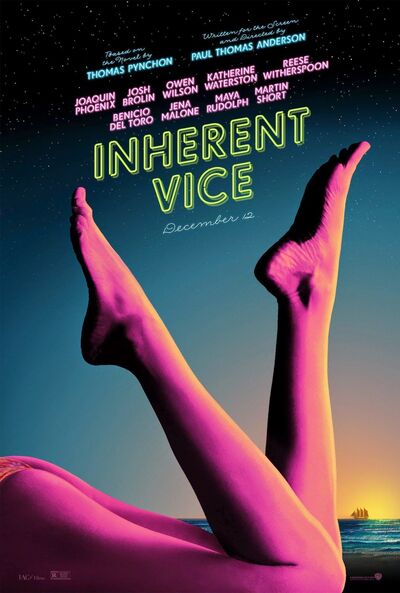 Inherent Vice (2014)
Director: Paul Thomas Anderson
Summary
In the year 1970, stoner private detective Larry 'Doc' Sportello (Joaquin Phoenix) finds himself embroiled in a complicated series of interconnected cases.
Male Deaths
Female Deaths
Trivia
Edgar Wright had nicknamed the film "Inherent Twice" due to its complex nature.
According to Josh Brolin, 

Thomas Pynchon

, the author of the novel "Inherent Vice", makes a cameo appearance in the film.
When Doc shows Bigfoot the photo from the stoner party including Coy, it is clear that the picture is a painstaking reproduction of Leonardo da Vinci's The Last Supper.
Charlize Theron was considered to play Shasta before Katherine Waterston was cast.
According to director 

Paul Thomas Anderson

, Joaquin Phoenix and Reese Witherspoon"have their own language and short hand" with each other. While their natural rapport helped to show the chemistry between their characters, this led to Anderson having to constantly remind them to stop chatting so that they could film.
Reese Witherspoon filmed all of her scenes in four days. Director 

Paul Thomas Anderson

loved working with her so much that he and Joaquin Phoenix, who famously worked with Reese in Walk the Line (2005), began talking with Witherspoon about possibly changing the story so that her character would be around more. However, ultimately the actress convinced the two that it wouldn't be a good idea, something that in retrospect Anderson agrees with.
With this film, 

Paul Thomas Anderson

 has depicted every single decade of the 20th century except for the 1930's (There Will Be Blood (2007) covers the 1890's-1920's, 

The Master (2012)

covers the 1940's and 1950's, this covers the 1960's and 1970's, Boogie Nights (1997) the 1970's and 1980's, and Hard Eight (1996) & Magnolia (1999) each depict the 1990's). He also covered the first decade of the 21st century when he filmed

Punch-drunk Love (2002)

.