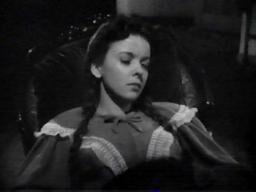 Ida Lupino (1918 - 1995)
The Hard Way (1943) [Mrs. Helen Chernen]: Commits suicide by jumping off of a bridge into the river in the opening scene; she is taken to the hospital, then the rest of the movie shows a flashback of her life leading up to the attempt, and she dies at the end of the flashback. (Thanks to Adam)
Devotion (1946) [Emily Bronte]: Dies of tuberculosis/pneumonia, with her sister (Olivia de Havilland) by her bedside.
Lust for Gold (For Those Who Dare) (1949) [Julia Thomas]: Killed in a rockslide when an earthquake strikes the mountain, after Ida has knifed Gig Young in the back. (Thanks to Gordon)
The Devil's Rain (1975) [Mrs. Preston]: Dissolved (along with the rest of the cult members) when the Devil's Rain is unleashed on them.
The Food of the Gods (H.G. Wells' Food of the Gods) (1976) [Mrs. Skinner]: Bitten to death by a giant rat in her kitchen; she manages to kill the rat with a meat cleaver before dying. (Thanks to Johan)
Community content is available under
CC-BY-SA
unless otherwise noted.