Ichiro Nakatani (1930 - 2004)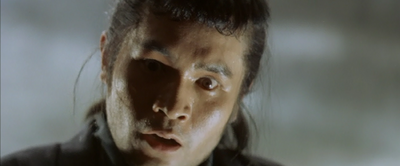 Film Deaths
Edit
Rodan (Sora no daikaiju Radon) (1956) [Senkichi]: Killed during Meganuron's attack.
Yojimbo (The Bodyguard) (1961) [First Samurai]: Stabbed in the stomach with a sword by Toshiro Mifune.
Harakiri (Seppeku) (1962) [Hayato Yazaki]: While still alive at the end of the film, he is ordered to commit hara-kiri due to losing his top knot in a duel with Tatsuya Nakadai.
Sleepy Eyes of Death 4: Sword of Seduction (Nemuri Kyoshiro 4: Joyoken) (1964) [Takabe]: Has his arm cutt off and then stabbed in the stomach by Raizô Ichikawa.
Cash Calls Hell (Gohiki no shinsh) (1966) [Gangster]: Dies of his stab wounds.
The Sword of Doom (Dai-bosatsu tôge)' '(1966) [Bunnojo Utsuki]: Hit in the head with a wooden sword by Tatsuya Nakadai.
Sleepy Eyes of Death: The Mask of the Princess (Nemuri Kyoshiro 7: Tajo-Ken) (1966) [Ronin]: Sliced open in a sword duel with Raizô Ichikawa.
A Killer's Key (Aru koroshiya no kagi) (1967) [Thug]: Dies when his car explodes set up by Raizô Ichikawa
Samurai Wolf 2 (Kiba Okaminosuke: jigoku giri) (1967) [Ikkaku]: Stabbed in the stomach with a sword by Isao Natsuyagi.
Black Dagger (Burai kurodoso) (1968) [Yakuza]: Stabbed to death by rival gangsters.
Inn of Evil (Inochi bo ni furo) (1971) [Hacchôbori officer, Okajima] Stabbed in the back by Tatsuya Nakadai.
Lone Wolf and Cub: Baby Cart to Hades (Kozure Ôkami: Shinikazeni mukau ubaguruma) (1972) [Yagyu Samurai]: Speared in the chest by Tomisaburô Wakayama.
New Battles Without Honor and Humanity 1 (Shin jingi naki tatakai) (1974) [Nanba]: Shot to death by Nobuo Yana .
Riot in Shimane Prison (Bodo shimane kemusho) (1975) [Guard] Strangled with a handcuff chain by Hiroki Matsukata  and Kin'ya Kitaôji.
New Female Prisoner Scorpion: #701 (Shin joshu Sasori: 701-go) (1976) [Dietman Miura]: Stabbed to death by Yumi Takigawa.  
The Shogun's Samurai (Yagyû ichizoku no inbô) (1978) [Gyobu Amano]: Shot to death during an ambush.
Connections
Edit
Community content is available under
CC-BY-SA
unless otherwise noted.