Cobra Kai Season 4 - The Loop
Play Sound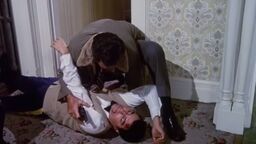 Ian McShane (1942 - )
Film Deaths:
[
]
Sitting Target (1972) [Birdy Williams]: Machine-gunned by Oliver Reed as he tries to escape with the money.
Journey Into Fear (1975) [Banat] Falls to his death down a stairwell in a struggle with Sam Waterston.
Ransom (The Terrorists) (1975) [Petrie]: Shot in the head by terrorist,

Karen Maxwell,

after he has killed the gang leader, John Quentin. (Thanks to Brian)
Ordeal by Innocence (1984) [Philip Durrant]: Murdered off-screen. His body is later shown. 
Too Scared to Scream (The Doorman) (1985) [Vincent Hardwick]: Stabbed in the back (off-screen) by Chet Doherty; he dies shortly after staggering through the doorway and collapsing in Mike Connors' arms. (Thanks to Eric)
Agent Cody Banks (2003) [Dr. Brinkman]: Devoured from the inside by nano-bots after Hilary Duff puts an ice cube containing the nano-bots into his mouth. (Thanks to ND)
Scoop (2006) [Joe Strombel]: Dies (off-screen) of a heart attack, shortly before the movie begins; we first see him riding in a boat on the river Styx with several other spirits, and his ghost periodically appears to Scarlett Johansson and Woody Allen throughout the movie.
The Golden Compass (2007) [Ragnar Sturlusson]: Providing the voice of a bear, he is bitten on the throat by Iorek (voiced by Ian McKellen), after Iorek tears Ragnar's jaw off at the end of a fight.
Kung Fu Panda (2008; animated) [Tai Lung]: Providing the voice of a snow leopard, he explodes into a cloud of dust after Po (voiced by Jack Black) performs a mystical martial-arts move on him. (Thanks to Tommy and ND)
Case 39 (2009) [Detective Mike Barron]: Shoots himself while trying to shoot an illusory dog, when Jodelle Ferland uses her supernatural powers to make him believe a dog is attacking him (there is an alternative deleted scene where he falls off a roof). (Thanks to Tommy and Marjorie)
Coraline (2009; animated) [Mr. Bobinsky/Other Bobinsky]: Playing a dual role in the two different worlds, "Other Bobinsky" disintegrates into a swarm of rats that scurry out of his clothes, apparently as a result of Teri Hatcher beginning to lose control over the other world; for good measure, the lead rat is killed by Keith David. ("Mr. Bobinsky" however, survives the movie.) (Thanks to Tommy)
Pirates of the Caribbean: On Stranger Tides (2011) [Blackbeard]: Decomposes into a skeleton after Johnny Depp makes him drink from the wrong magical chalice (on top of having been stabbed with a poisoned sword during a sword fight with Geoffrey Rush). (Thanks to Tommy and ND)
El Niño (2014) [Inglés]: Decapitated (of-screen) by drug dealers. We can see his body at the end of the movie.
Hellboy (2019) [Trevor Bruttenholm]: Stabbed in the neck by Milla Jovovich with her fingers as David Harbour watch on in helplessly. He later appears as his spirit to David when Sasha Lane uses her powers to channel the spirit.
Television Deaths:
[
]
Gallery
[
]
Connections
[
]
Son of Harry McShane (professional soccer player)