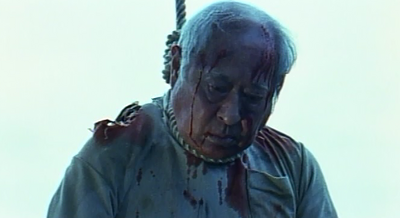 Pigs and Battleships (Buta to gunkan) (1961) [Kinta]: Murdered by the local Yakuza.
Nihon Kyokakuden: Naniwahen (1965) [Tora]: Stabbed to death by numerous gangsters. 
Red Peony Gambler 8: Execution of Duty (Hibotan bakuto: Jinji tooshimasu) (1972) [Gangster] Stabbed to death by rival gangsters. 
Samurai VS Bandit Squadron (Kumokiri Nizaemon) (1978) [Kichigorô]: Executed off-screen. We just see him tied and being taken to his execution. His death is later confirmed.
The Shogun's Shadow (Shôgun Iemitsu no ranshin - Gekitotsu) (1989) [Tagaya Rokubee]: Sets himself on fire while riding his horse and charges at the enemy samurai before finally dying of his wounds.
The Man in White (Yurusarezaru mono) (2003) [Ohra]: Murdered off-screen by Masaya Kato. His body is later shown hanging from a noose.
Izo (2004) [Elder]: Hacked to death by Kazuya Nakayama.
A Hardest Night!! (Nezu no ban) (2005) [Master Kyokaku]: Dies of a terminal illness while in a hospital bed. His body is shown throughout his funeral.
Community content is available under
CC-BY-SA
unless otherwise noted.