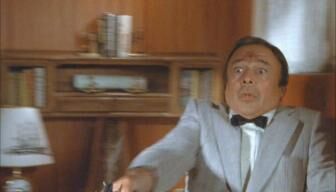 Herbert Lom (1917 - 2012)
Hotel Reserve (1944) [Andre Roux]: Falls to his death from a rooftop while backing away from James Mason. (Thanks to Brian)
Dual Alibi (1947) [Geroges De Lisle]: Part of acrobatic twins, he is accidentally strangled during a performance when the noose around his head slips over his neck whilst he is doing the horizontal body swing as his brother holds him by the rope. (Thanks to Brian)  
Snowbound (1948) [Keramikos]: Burnt to death with Robert Newton as they continue to fight in the burning ski lodge and the roof collapses on them. (Thanks to Brian)
Star Of India (1954) [Narbonne]: Killed in a swordfight on board the pirate ship by Cornel Wilde. (Thanks to Brian)
The Ladykillers (1955) [Louis a.k.a. Mr. Harvey]: Falls into a moving train after Alec Guinness pushes the ladder away from the overpass.
Hell Drivers (1957) [Gino Rossi]: Fatally injured/burned (off-screen) in a crash when Patrick McGoohan forces Herbert's truck off the road; he dies in the hospital afterwards (Thanks to Garrett and Brian)
Passport To Shame (Room 43) [1958) [Nick Biaggi]: Falls to his death whilst clinging to the legs of Michael Constantine who had tried to rescue him from the fourth floor window ledge he had got on to escape the fire, set by Diana Dors when she tried to kill him. (Thanks to Brian)
Northwest Frontier (Flame over India) (1959) [Van Layden]: Shot in the stomach by Lauren Bacall just as Herbert is about to kill Kenneth More on top of a train. Herbert then falls from the train. (Thanks to Garrett and Brian)
Mysterious Island (Jules Verne's Mysterious Island) (1961) [Captain Nemo]: Crushed and or drowned when a volcanic eruption causes a large rock to hit his submarine. (Thanks to Garrett)
Phantom of the Opera (1962) [The Phantom a.k.a. Professor Petrie]: Impaled when a chandelier falls on him, after he pushes Heather Sears out of the way. (Thanks to Tony)
The Treasure of the Silver Lake (1962) [Colonel Brinkley]: Falls to his death and drowns in a bog, when Tonkawa pulls the chain and buried with the gold.
Uncle Tom's Cabin (Onkel Tom's Hut; Cry Sweet Revenge) (1965) [Simon Legree]: Killed by a group of slaves, when they revolt after Herbert Kills John Kitzmiller. (Thanks to Robert)
Journey to the Far Side of the Sun (Doppelganger) (1969) [Dr. Hassler]: Shot to death after being discovered as a spy. (Thanks to Garrett)
Asylum (1972) [Dr. Byron]: Killed when Robert Powell destroys the tiny 'voodoo' robot Herbert is controlling with his powers. We see tiny organs in it when it breaks.
The Pink Panther Strikes Again (1976) [Chief Inspector Charles Dreyfus]: Accidentally disintegrated by his own laser weapon. (Played for comic effect) (The character was brought back without explanation in the following sequel Revenge of the Pink Panther) (Thanks to Anton and Derek)
The Man with Bogart's Face (Sam Marlow, Private eye) (1980) [Dr. Zebra]: Shot in the head by Robert Sacchi when Herbert goes for his gun on board the yacht.
King Solomon's Mines (1985) [Colonel Bockner]: Drowned by a sea monster after Herbert triggers a trap in the mines. (Thanks to Anton)
Ten Little Indians (Death on Safari) (1989) [General Brancko Romensky]: Falls when a mountainside after being pushed off by Donald Pleasence. (Thanks to Johan)
The Sect (La Setta; The Devil's Daughter) (1991) [Moebius Kelly]:Burned to the point that he becomes a charred skeleton when he jumps into a fire to try and stop Kelly Curtis from killing the son of Satan. 
Community content is available under
CC-BY-SA
unless otherwise noted.