Helmut Berger (1944 - )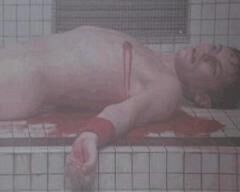 a.k.a. Helmut Steinberger
Dorian Gray (The Evils of Dorian Gray; The Secret of Dorian Gray) (1970) [Dorian Gray]: Rapidly ages to death after he attempts to destroy the painting that had aged in his place. (Thanks to PortsGuy)
The Bloodstained Butterfly (Una Farfalla con le ali insanguinate) (1971) [Giorgio]: Possibly dies after being stabbed by Giancarlo Sbragia who he kills.  The film ends before Helmut's fate is confirmed as he lays down holding his stomach in an abandoned warehouse. 
Ludwig (1973) [King Ludwig II]: Persumably drowned. (I haven't seen any of this, but we know the history).
Conversation Piece (Gruppo di famiglia in un interno) (1974) [Konrad Huebel] Commits suicide by blowing himself up with a gas leak coming from the kitchen stove.  
Order to Kill (El Clan de los inmorales; Mission to Kill; Order to Assassinate) (1975) [Clyde Hart]: Shot in the chest in a shoot-out with Howard Ross on the beach.
Salon Kitty (Madam Kitty) (1976) [Helmut Wallenberg]: Shot repeatedly by Nazi soldiers in a sauna. (Nudity alert: Full Frontal & Rear) (Thanks to Johan)
The Biggest Battle (Il Grande attaco; The Greatest Battle) (1977) [Lt. Kurt Zimmer]: Killed in combat. (Thanks to Johan)
Iron Cross (2009) [Shrager / Vogler]: Killed (this film is not publicly available, but the soundtrack confirms his death).
Victory at Entebbe (1976; TV) [Wilfried Bose]: Gunned, along with his fellow terrorists by the Israeli commandos.
Return of the Saint: The Murder Cartel (1979) [Vidal]: Shot in the back while trying to escape after attempting to assassinate Marne Maitland; he dies after getting into his car and starting to drive off. (Thanks to Johan)
Dynasty: Fallon (1984) [Peter De Vilbis]: Killed (off-screen) in a plane crash; Helmut last appeared several months previously in the episode The Vigil, but his death was revealed in this episode. (Thanks to Johan)
Community content is available under
CC-BY-SA
unless otherwise noted.