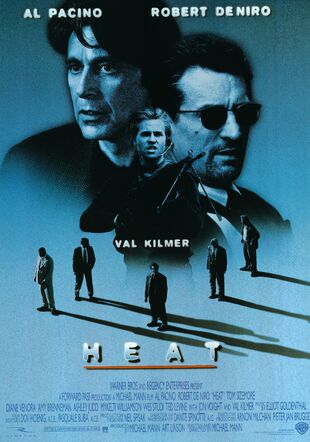 Director: Michael Mann
Master criminal Neil McCauley (Robert De Niro) is trying to control the rogue actions of one of his men, while also planning one last big heist before retiring. Meanwhile, Lieutenant Hanna (Al Pacino) attempts to track down McCauley as he deals with the chaos in his own life, including the infidelity of his wife (Diane Venora) and the mental health of his stepdaughter (Natalie Portman). McCauley and Hanna discover a mutual respect, even as they try to thwart each other's plans.
Male Deaths
Edit
Female Deaths
Edit
In the original script, Eady was Chinese.
This is Tom Hiddleston's favorite film.
Danny Trejo, who plays a member of the crew, has been an inmate at Folsom Prison in real-life, just like Neil in the movie.
In June of 2002, the scene involving the shoot-out after the bank robbery was shown to United States Marine recruits at MCRD San Diego as an example of the proper way to retreat while under fire.
Val Kilmer was thrilled to learn that the moment in the gunbattle scene where he runs out of bullets, and rapidly changes his magazine, is regularly shown to Marine recruits as an example of how to perform the action properly.
In an interview with Al Pacino on the DVD Special Edition, Pacino revealed that for the scene in the restaurant between Hanna and McCauley, Robert De Niro felt that the scene should not be rehearsed so that the unfamiliarity between the two characters would seem more genuine. Michael Mann agreed, and shot the scene with no practice rehearsals.
Community content is available under
CC-BY-SA
unless otherwise noted.