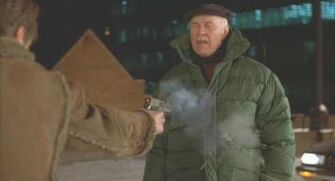 Harve Presnell (1933 - 2009)
The Glory Guys (1965) [Sol Rogers]: Stabbed to death by a Native American with a stolen cavalry sword (the Native is also killed by Harve's character), he dies whilst talking to Tom Tryon.
Fargo (1996) [Wade Gustafson]: Shot in the chest by Steve Buscemi in a parking at night, during an argument after Harve comes to deliver the ransom money. (Harve manages to slightly wound/graze Steve in the jaw/cheek with his gun, before Steve finishes him off by shooting him repeatedly).
Mr. Deeds (2002) [Preston Blake]: Frozen to death (off-screen) during a mountain-climbing expedition; the scene cuts from him climbing the mountain to a shot of his frozen body. His body is shown again later on during his funeral, when Adam Sandler opens the coffin and inadvertently causes the body (still frozen in a sitting position) to sit upright. (Thanks to ND)
Tidal Wave: No Escape (1997 TV) [Stanley Schiff]: Shot to death by FBI agents when he attacks Corbin Bernsen.
Community content is available under
CC-BY-SA
unless otherwise noted.