Harumi Sone (1937 - 2016)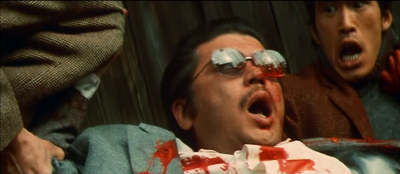 Film Deaths
Edit
Greed in Broad Daylight (Hakuchu no buraikan) (1961) [Gangster] Shot to death. 
Gamblers Farewell (Bakuto Kaisan-shiki) (1968) [Yakuza]: Stabbed to death by Nobuo Yana
Quick-draw Okatsu  (Yoen dokufuden: Hitokiri okatsu) (1969) [Jinkuro]: Stabbed to death by Junko Miyazono.
Japan Organized Crime Boss (Nihon boryoku-dan: Kumicho) (1969) [Yakuza]: Shot to death when a large number of rival yakuza storm the building.
Deliquent Girl Boss: Blossoming Night Dreams' '(Tokyo Bad Girls) (Zubeko bancho: yume wa yoru hiraku) (1970) [Yakuza] Stabbed to death by Tatsuo Umemiya.
Battles Without Honor and Humanity The Yakuza Papers (Jingi naki tatakai) (1973) [Shuji Yano]: Shot to death by rival gangster.
Wolfguy: Enraged Lycanthrope (Urufu gai: Moero okami-otoko) (1975) [Informant] Beaten and then hung by the yakuza. 
Okinawa Yakuza War (Okinawa Yakuza Senso) (1976) [Asahikawa] Run over multiple times by Sonny Chiba.
Legend of the Eight Samurai (Satomi hakken-den) (1983) [Lord]: Decapitated during a dance.
Ambition Without Honor (Jingi naki yabo) (1996) [Boss] Stabbed to death by Yûta Sone.
New Third Gangster II (Shin daisan no gokudo II) (1996) [Soma] Shot to death by rival gangsters as he is leaving his house.
Agitator (Araburu tamashii-tachi) (2001) [The Don]: Shot to death in a restaurant.
Graveyard of Honor (Shin Jingi no Hakaba) (2002) [Ryuuzô Fukui]: Shot in the forehead by Goro Kishitani off-screen. His body is showing sitting on a couch with a bullet hole in his head.
Izo (2004) [Monk]: Decapitated off-screen by Kazuya Nakayama. His head is shown on a table later.
None
Community content is available under
CC-BY-SA
unless otherwise noted.