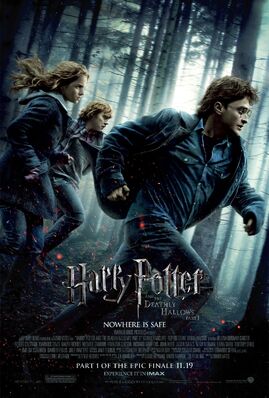 Harry Potter and the Deathly Hallows: Part 1 (2010)
Director: David Yates
Male Deaths
Edit
Female Deaths
Edit
Animal Deaths
Edit
First of the films to have J.K. Rowling as a Producer.
Guillermo del Toro expressed interest in directing this installment.
Filming the "Seven Harrys" scene was so complex, that Daniel Radcliffe counted over ninety takes for just a single shot.
Bill Weasley is played by Domhnall Gleeson, son of cast member Brendan Gleeson (Mad-Eye Moody).
Sir John Hurt's reprisal as Ollivander marks the longest gap, nine years, since his previous appearance in the franchise. Toby Jones' reprisal as Dobby was second longest, at eight years.
Warwick Davis worked a third job. Aside from the two characters he plays in the franchise, Davis runs a company called Willow Personnel Management. This company helps little people to find work on film, and found the on-set stand-ins for Dobby and Kreacher.
Jason Isaacs (Lucius Malfoy) originally considered not returning for this film, fearing that his character's arrest and imprisonment at the end of Harry Potter and the Order of the Phoenix (2007) would mean very little, if any, screen time in the finale. Upon meeting J.K. Rowling, he begged to be let out of prison. She told him "You're out. Chapter one." This immediately convinced him to sign on for the film.
Community content is available under
CC-BY-SA
unless otherwise noted.