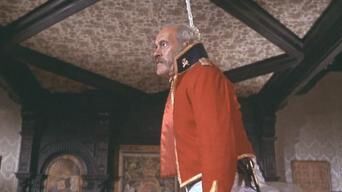 Harry Andrews (1911 - 1989)
Helen of Troy (1956) [Hector]: Stabbed to death in a duel with Stanley Baker; Stanley then drags Harry's body around the walls of Troy from Stanley's chariot. (Thanks to Gordon)
Sands of the Kalahari (1965) [Grimmelman]: Dies of a heart attack during a fight with Stuart Whitman. (Thanks to Brian)
Wuthering Heights (1970) [Mr. Earnshaw]: Dies of natural causes after falling asleep in his chair; his servant discovers that he's dead after trying to wake him up.
The Ruling Class (1972) [13th Earl of Gurney]: Accidentally hangs himself while engaging in auto-erotic asphyxiation in his bedroom.
The Final Programme (The Last Day of Man on Earth) (1973) [John]: Shot (off-screen) by Derrick O'Connor in the hallway; he dies shortly afterwards while talking to Jon Finch after Jon discovers him.
The Mackintosh Man (1973) [Mackintosh]: Murdered by being run over by a car.   
Theatre of Blood (Much ado about Murder) (1973) [Trevor Dickman]: Gets "a pound of flesh" (his heart) cut out of his chest by Vincent Price in a theatre.
Superman (1978) [Second Elder]: Killed in an explosion (along with the rest of the planet's population) when Krypton explodes.
Watership Down (1978; animated) [General Woundwort]: Providing the voice of a rabbit, he is presumably killed (off-screen) in a fight with a dog; the scene ends with him and the dog attacking each other, followed by the narrator stating that his body was never found and that he is rumored to still be alive.
Community content is available under
CC-BY-SA
unless otherwise noted.