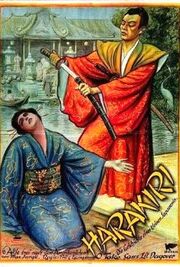 Harakiri (1919)
aka Madame Butterfly
Directed by Fritz Lang
Plot Summary:
Edit
The Buddist priest wants the Daughter of the Daimyo to become a priestess at the Forbidden Garden. The Daimyo thinks if he were in Europe tht his daughter should decide on her own, but he is denunciated and has to commit harakiri. She meets Olaf, a European Officer, falls in love and marries him, but after a few months he has to return to Europe. She gives birth to a child and is waiting for him, while he marries in Europe. When he comes back to Japan 4 years later, he is accompanied by his European wife.
Male Death:
Edit
Female Death:
Edit
Community content is available under
CC-BY-SA
unless otherwise noted.