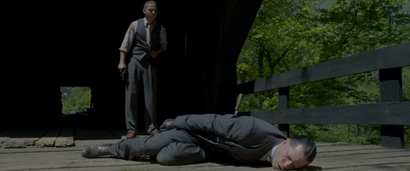 Guy Pearce (1967 - )
First Snow (2007) [Jimmy Starks]: Presumably killed in a car crash when he skids into oncoming traffic. We only see the screen go white from oncoming headlights, cutting to a news report of his death.
Death Defying Acts (2007) [Harry Houdini]: Dies of peritonitis due to a ruptured appendix, after Jack Bailey punches Guy in the stomach before Guy could prepare for the blow.
The Hurt Locker (2009) [SSG Matt Thompson]: Killed in an explosion when an Iraqi insurgent remotely detonates a bomb that Guy was preparing to defuse.
Seeking Justice (Justice) (2011) [Simon/Eugene Cook]: Shot repeatedly in the the back and stomach/chest by January Jones as Guy is about to shoot Nicolas Cage at the end of a shootout/struggle. His body is later seen when Xander Berkley makes it look like Guy and Harold Perrineau Jr. shot each other.
Prometheus (2012) [Peter Weyland]: Critically injured after Ian Whyte swings Michael Fassbender's severed robot head at Guy; he dies while talking to Michael's still-functioning head (Guy was in heavy old age make-up for the role).
Community content is available under
CC-BY-SA
unless otherwise noted.