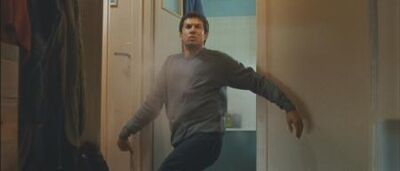 Guillaume Canet (1973 - )
Love Me If You Dare (2003) [Julien Javier]: Commits suicide, along with Marion Cotillard, by allowing themselves to be buried in wet cement at a construction site. The scene cuts from them embracing in the cement to a scene showing elderly versions of them (Nathalie Nattier and Robert Willar) in a nursing home, then cuts back to the cement. It's left up to the viewer's interpretation as to which version of their fate is reallity and which one is fantasy. (Thanks to GLC)
Tell No One (2006) [Philippe Neuville]: Shot in the chest by Marie-Josée Croze after he beats her up. We first see a flashback sequence showing André Dussollier shooting Guillaume, then Andre makes a false confession to the murder; the actual murder is shown in a different flashback later on when Andre tell Francois Cluzet the truth.
Rivals (Les liens du sang) (2008) [Francois Papet]: Shot repeatedly by Mehdi Nebbou. (Thanks to Thierry)
Community content is available under
CC-BY-SA
unless otherwise noted.