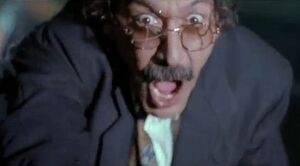 Gregory Sierra (1937 - 2021)
Machismo: 40 Graves for 40 Guns (1971) [Lopez]: Killed (I haven't seen this, but I read he dies in it).
The Culpepper Cattle Co. (1972) [One-eyed horsethief]; Shot by Billy Green Bush in the big shootout in the saloon. (Thanks to Brian)
Papillon (1973) [Antonio]: Impaled on multiple spikes which spring up when he steps on a booby trap during his run through a jungle with Steve McQueen, as Steve looks on.
The Towering Inferno (1974) [Carlos]: Crushed underneath a falling piece of statue when the Ball Room is flooded by a million gallons of water, and bleeds to death moments later as Paul Newman looks on.
Deep Cover (1992) [Felix Barbossa]: Accidentally run over by a police car after Jeff Goldblum throws Gregory out of his limousine during a high-speed chase (on top of being shot in the hands and butt by Jeff).
Stingray: Pilot (1985) [Tony Mendoza]: Presumably died on a boat after being crushed by his own car driven by Nick Mancuso.
Community content is available under
CC-BY-SA
unless otherwise noted.