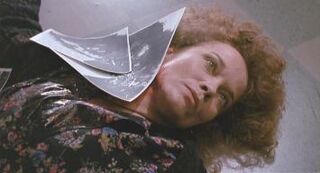 Grace Zabriskie (1941 - )
Galaxy of Terror (Mindwarp: An Infinity of Terror; Planet of Horrors; Quest) (1981) [Captain Trantor]: Burned to death (off-screen) by the manifestation of her deepest fears; her body is shown afterwards when the others discover her. (Thanks to Jeff)
Child's Play 2 (1990) [Grace Poole]: Stabbed in the chest by Chucky in her office while Alex Vincent and Christine Elise look on in horror; she falls face-first onto a photocopier which makes several copies of her face. (Thanks to Robert and Francisco)
The Passion of Darkly Noon (Darkly Noon) (1995) [Roxy]: Commits suicide by shooting herself in the mouth with a shotgun. (Thanks to Utonium)
R.S.V.P (2002) [Mary Franklin]: Beaten to death (along with Jonathan Banks) with a cane by Rick Otto in a hallway; we only see a brief shot of her falling out of frame after the blow.
The Grudge (2004) [Emma Williams]: Drained of life (off-screen) by Takako Fuji's ghost; we see the ghost hovering over her before Sarah Michelle Gellar passes out, and Grace's body is shown afterwards after Sarah comes to. (Thanks to Germboygel, Dan, and Alex)
Murder at My Door (1996 TV) [Grandma]: Dies (off-screen) of old age/natural causes. (Thanks to Drew)
Mother of Marion Lane (painter)
Community content is available under
CC-BY-SA
unless otherwise noted.